A quick and easy recipe submitted by member: Susan McCusker.
Spoon the dip into red (or yellow) pepper shells and serve in basket with fresh vegetables.
"DJ Chef Marc Weiss," food editor for the Best of Long Island Restaurants magazine shares the perfect Thanksgiving dinner with us...

These brownies are yummy and so easy to make!
Broil these chops and make your guests happy.

Delicious with peas or green beans and shoestring potatoes for luncheon or dinner.

Fast and easy recipe that'll knock 'em out.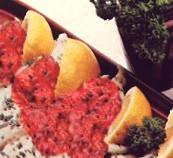 Fabulous served with red potatoes and steamed green beans.
May be prepared ahead of time and then re-heated.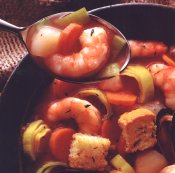 Shrimp, mussels, and cod are quickly cooked in chunky tomatoes. Bread and salad will round out the menu.