This salad of rice and peanuts is great as a main dish with leftover roasted chicken pulled into thin shreds or with the recipe for "Spicy Marinated Shrimp" in the ...
These delicious rolls may be made earlier and reheated.
Serve as appetizer or cut into slices to serve as a first course.
A gentle blend of tomato and olives make this dish a favorite.
Italian Gourmet with a kick.
A healthy work-out starts with a healthy meal.
Our All-Time Favorite will become your favorite also.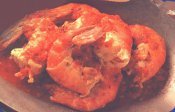 Serve these delicious Shrimp with Yellow Confetti Rice or Sesame Brown Rice or over Cabbage Salad.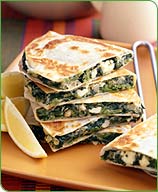 Quesadillas, skillet-toasted sandwiches, are so versatile you'll find no end to the combinations you'll want to try. Start with fat-free tortillas and make sure your filling has a creamy — ...