Best Chicken and Broccoli recipe by far.
Easy way to dress up asparagus -- for an everyday meal or a gala occasion.

Do you like Guacamole? Well than you'll love this Heart Smart Recipe! Great for a dip or spread.
If you don't have pale yellow, nutty-flavored Gruyère cheese, substitute the same amount of shredded Swiss or Jarlsberg, or a few shavings of fresh Parmesan.

The cranberry vinaigrette turns an otherwise simple salad into a masterpiece.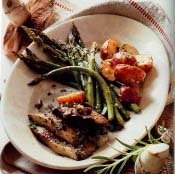 WOW! Your guests will line up to get this recipe from you.

This classic sandwich is even better than ever!
The bacon makes this recipe superb.
A sweet and tangy sauté of lean chicken breasts, Bosc pears, and tart dried cherries.