Best Chicken and Broccoli recipe by far.
The bacon makes this recipe superb.
A sweet and tangy sauté of lean chicken breasts, Bosc pears, and tart dried cherries.
Can't you just feel your salivary glands getting ready for this one?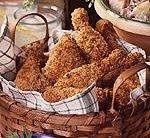 Caution: Finger-lickin' GOOD!

Quick and easy recipe that will make everyone smile.
Serve with zucchini and carrot slices.

Great flavor and so tender it melts in your mouth.
Serve with sautéed spinach & garlic, rice and fresh pineapple.
"DJ Chef Marc Weiss," food editor for the Best of Long Island Restaurants magazine shares the perfect Thanksgiving dinner with us...