A sweetly spiced marinade adds flavor and tenderness to classic grilled flank steak.
Baby artichokes are not a special variety. They grow on the same plant as regular artichokes, but lower on the stalk, shielded from the sun's growth producing rays. Try them ...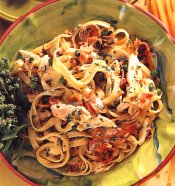 Bacon slices work well also and may be substituted for the prosciutto.

Guests love this recipe when served along with sticky buns. It makes a breakfast that will stay with them throughout their busy day of antiquing, hiking or the lake.
Can't you just feel your salivary glands getting ready for this one?

Not just for brunch... great ANYtime.
A simple, yet popular favorite with all carrot- lovers.
Everyone's talking "back to basics." What could be more down-home than fluffy hot pancakes with warm maple syrup?

This recipe makes a large batch of velvety sauce. Pour into pretty canning jars for gift giving.
This gives chops or chicken breasts a yummy crust.