Like something sweet to accompany your breakfast?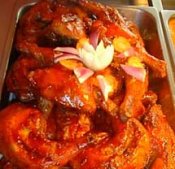 Get the straws out, it's party time.
This moist, tender bread is best served warm.
This recipe may be doubled to accomodate more guests.
If you don't have a souffle dish, you may use a straight-sided casserole dish instead.

A blend of cranberry juice, red wine and seltzer, with a splash of lime juice.

This lemony dill sauce has a hint of mustard. Save any leftover sauce to spread on sandwiches another day.
Once you have tried this recipe, no other crème brulée will ever taste as good. The thick, rich custard with crisp brown-sugar topping is our favorite.
Try our classic recipe for the crepes or look for ready-to-use ones in the produce section of your supermarket.