This hot cider base can be prepared and refrigerated up to 2 days ahead — when ready to heat, add the rum.

Great Finger Sandwiches made from Pita Breads for a warm snack or a quick hot lunch.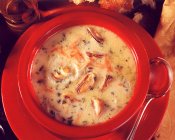 Easy and satisfying -- serve with Italian bread to soak up every last drop.