The controversy surrounding Suffolk County's red light camera programs continues to intensify as residents and lawmakers have become increasingly vocal on the matter – both for and against it – in recent weeks.
The red light camera program was introduced in 2009 with 50 cameras installed in various intersections throughout the County with the purpose of taking pictures of license plates of motorists who ran red lights. Drivers would later receive a traffic ticket in the mail for $80 per offence ($50, plus a $30 administrative fee).

A Retired SCPD officer speaking before the Suffolk County Legislature
However, growing community backlash claims the program is nothing but an attempt to generate revenue off the backs of Suffolk County residents as opposed to a safety measure. Some, more radically, even accuse the county of allegedly shortening the duration of yellow lights in intersections governed by red light cameras dramatically in an attempt to increase the number of tickets doled out, leading to an increase in reported accidents.
The red light cameras gained widespread attention – and notoriety – after Centereach resident Stephen Ruth famously kicked off a crusade against the program in August of 2015 by filming himself sabotaging one of the cameras and posting the video on YouTube. Ruth was subsequently arrested, but that didn't deter him; in April of this year, he disabled as many as 19 additional cameras in a single weekend by cutting their video cables, and actually bragged about his deed afterwards to local media. Once again, Ruth was arrested, with the cases against him for the two separate incidents still pending.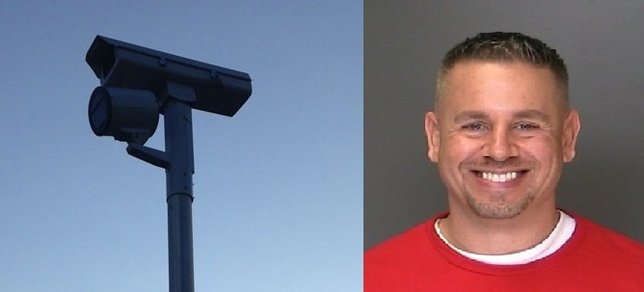 Stephen Ruth was most recently arrested on April 11th, 2016 for damaging 19+ red light cameras the prior weekend.
As for why he was so brazen about his actions, at the time Ruth – dubbed by the media as the "Red Light Robin Hood" – said he is trying to get people to stand up and take notice of something he saw as a very real danger to the community.
"I've never hidden from my actions, and I believe in what I'm doing. I stand behind my actions, I don't hide behind them. I'm trying to save lives," Ruth said. "People are being hurt and killed trying to beat a short yellow light, and by cutting the cables on these cameras, I've made them dysfunctional, just like the whole red light camera program."

Stephen Ruth calling for a citizen's arrest of the Suffolk County Legislature earlier this month.
Legislator Rob Trotta (R-Fort Salonga) has been a vocal opponent of the red light cameras, and has sponsored legislation – IR 1395 – to have the program suspended. Trotta said that while he is not against the idea of a camera system, if they catch motorists doing something blatantly dangerous, but he notes that the way it is currently implemented represents a grave threat to residents, and a callous, money-grabbing attitude on the part of Suffolk County officials.
"They put these cameras up, and in some of the locations accidents have actually increased over 100 percent…there are three cameras in Commack where accidents increased by as much as 106 percent; and there is no study anywhere that says they make things safer… this is nothing more than a money grab," said Trotta.

"Having been a former cop, I've watched hundreds of these red light camera videos where people have gotten summonses – many of them just for turning right on red without stopping long enough – and there's not a single one where I would have written a ticket. It's not about safety, it's about money…it's taxation by citation."

Right Turn on Red: Tickets with Red Light Cameras.
Trotta noted that he expects his red light camera legislation to not pass in the Legislature due to how much Suffolk County has come to depend on the revenue generated by the program, which totaled $33 million in 2014 alone.
"The bill won't make it, because they want the money. They're addicted to the money," he said. "What people don't understand is that this money goes directly into the police budget …the County Executive gave the cops a 28 percent pay increase, and we can't afford to pay them that much…we're actually deferring some of their pay until they retire because of it. So basically, the County Executive is paying for their pay increase with red light tickets."
If it were to fail, Trotta vowed to continue to re-introduce his bill.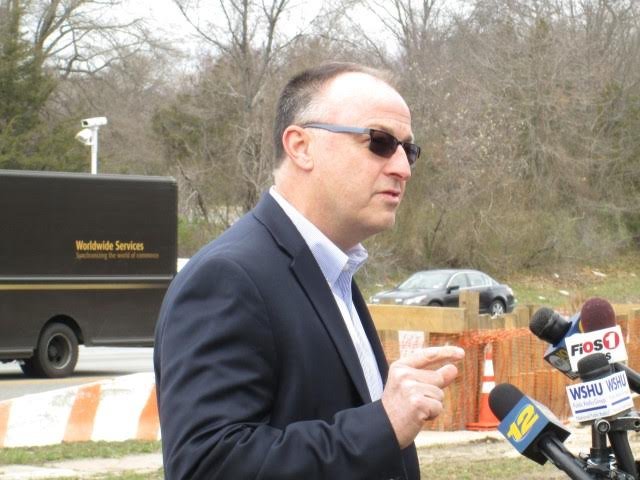 Suffolk County Legislator Rob Trotta held a press conference in April of 2016 announcing that his sponsorship of legislation to suspend the Red Light Camera Program in Suffolk.
As for the claims maintained by Stephen Ruth and others regarding shortened yellow lights in intersections manned by red light cameras, Trotta shared his own story that may corroborate at least some aspect of the allegations.
"I have seen a video of an intersection with a camera in Selden…if you're going straight ahead, the yellow light is five seconds, but the left-turn yellow light is only three seconds," he said.
"Then, at the next intersection there's the same set-up, but no camera, and the left-turn yellow light is five seconds. So I don't know if yellow lights are being shortened, but at some intersections – where the cameras are – there are only three second lefts. I'm not accusing anything, but it's certainly suspect."

Suffolk County resident Madiha Khan speaking before the Suffolk County Legislature.
Legislator Kevin McCaffrey (R-Lindenhurst) has also come out strongly against the red light cameras, echoing the sentiments of Trotta that the program is simply a way to generate money on the backs of hard-working Suffolk citizens while potentially putting them in harm's way, he said.
"We now find out that we have a red light camera program that is causing more accidents than it's preventing…I'm all about public safety, and I think we need to take a hard look at this program. It's morphed into something that is no longer about safety and more about revenue generation," he said.

"If it was about safety we would have these cameras in the five Eastern towns and in the Incorporated Villages…it's not that they don't have traffic safety issues, but we don't have a single camera there because we would have to share the revenue with those municipalities. That makes it pretty clear that this is about revenue and not about safety."

Suffolk County resident Rose VanGuilder speaking before the Suffolk County Legislature.
McCaffrey also addressed the allegations regarding reduced yellow light duration in red light camera intersections.
"I cannot say that they have or have not been shortened," he said. "But I can tell you that, as part of the overhaul of this program, there should be some consistency in those yellow lights in regards to the speed limits in those areas. There should be a minimum of five seconds for any location that has a red light camera. If that was mandated and people were made aware, they wouldn't have to jam on their brakes and cause a rear-end collision. That's imperative."
In recent months, public outcry against the cameras has increased; Stephen Ruth and his supporters recently turned heads at a meeting of the Suffolk County Legislature, with many local residents – including a retired Suffolk County Police officer – speaking out to the gathered lawmakers about their opposition to the program. Ruth himself shockingly called for the arrest of both the Legislature itself as well as Suffolk County Executive Steve Bellone for what he called their alleged roles in the red light camera program and the issues it has caused.
"I do believe they should be arrested, and I want an investigation to be conducted into everyone who has died in front of a traffic light that was shortened for revenue," he said. "Until these people are held accountable, this is just going to continue. If you made an example out of them, it would stop. But the county doesn't even want to talk about this issue, which is why I have to go to extremes to get my point across."

Suffolk County resident Dorothy Fiore speaking before the Suffolk County Legislature.
However, despite the growing public and political resistance, there are many lawmakers who are still very much in favor of the camera program; Suffolk County Legislature Presiding Officer DuWayne Gregory (D-Amityville) has stated his support for the cameras, as well as discrediting the claims that they exist simply to make the county money and not for the sake of safety.
"The fact of the matter is that there has been a sizable decrease in the most dangerous accidents, T-bone collisions," he said. "There has been some evidence that rear-end collisions might have increased at some intersections, a fact attributable to drivers tailgating more than the effect of red light cameras. The allegation that timing of yellow lights has been altered is simply preposterous."
Legislator Rob Calarco (D-Patchogue) is another proponent of the cameras, noting that he had originally voted in favor or implementing the program in 2009 and, to this day, thinks that it has done a great job of reducing accidents and saving lives.
"I voted for the red light camera program and continue to support it today," he said. "The original sponsor, the late Presiding Officer Bill Lindsay, worked diligently for years for authorization from NYS to commence this program. His desire was not due to our fiscal circumstances, but rather because his wife was twice almost killed due to being in a T-bone accident where a driver ran through a red light. The reality is that running a red light can have disastrous consequences, as a T-bone accident can result in serious injury and fatality. While rear-end accidents have increased, T-bone accidents have decreased."

Suffolk County resident Marie Tooker speaking before the Suffolk County Legislature.
Calarco stated emphatically that the red light cameras were carefully placed based on traffic flow and legitimate accident data, and that there has been no tampering whatsoever with any mechanism in an attempt to drive up the amount of tickets issued in a given intersection.
"With accidents increasing almost every year, and the only decreases in fatalities occur in years where our program began, or was expanded," he said. "The locations for cameras are based upon traffic analysis by our Department of Public Works, not by the Legislature or the Traffic and Parking Violations Agency. Engineers from the department recently presented to the Public Safety Committee and testified that before any camera was installed, the yellow light timing was measured to ensure it met national standards and that in no instances was the timing ever reduced."

Stephen Ruth in Action, Disabling a local Traffic Camera.
Some politicians are taking a more middle-of-the-road approach in regards to the cameras; Legislator Tom Cilmi (R-Bay Shore) noted that the system is a good idea in theory, but that it requires a close look in order to see how it could be revamped into something that truly creates safer roadways for local residents.
"I believe the increase in rear-end accidents is a real concern and I do think it can be attributed, at least to some extent, to the red light camera program," he said. "I will say that no matter what we do, there will always be some accidents. We are not going to prevent everything and sadly there will always be injuries and worse, but I believe a program that utilizes an engineering solution to create safer intersections is better than a program that relies on people's fear of getting a ticket…which makes people drive tentatively and forces decisions that may have consequences."
Cilmi expressed the idea that extending the length of time yellow lights are lit – therefore giving people more time to stop – as well as extending the length of time that red lights in both directions are simultaneously lit would be a good way to address some of the safety issues surrounding the camera program.

A 3 Second Yellow Light on Ocean Avenue as filmed by Stephen Ruth.
New York State Assemblyman Chad Lupinacci (R-South Huntington) has sponsored Assembly Bill A7894, which would set minimum duration requirements for yellow lights in areas with red light camera systems in effect; the bill is currently pending.
Stephen Ruth, who remains more active than ever in his campaign against the red light cameras, said he expects a long, hard road ahead when it comes to achieving his goal of ridding the county of them. Reacting to Lupinacci's bill, Ruth commended the Assemblyman and said that it appeared to be a great plan for public safety, provided it eventually passes in Albany.
"It sounds like a pretty good bill. Honestly, what I think is one second, perhaps one-and-a-half seconds for every ten miles an hour of speed is best for safety, but you should also add on another second or two of reaction time on top of that," he said.

"But Suffolk County doesn't want to give us that. They're trying to hold onto the camera program for as long as possible because it makes them too much money. They want to get drivers into what's known as the 'dilemma zone' where the yellow light is so short you don't have time to stop and you're forced to run that light, and people are getting hurt because of it."