Hey bub, if you're looking for a great place to celebrate New Years Eve to say goodbye to 2019 and hello to 2020 (aka The Roaring 20s) you can always check out our comprehensive list of things to do on the LongIsland.com event calendar. But, if you want the exclusive tip on how to celebrate in the style of the Roaring 20s, see our list below. All events occur on Tuesday, December 31st. Click the links for more info and times.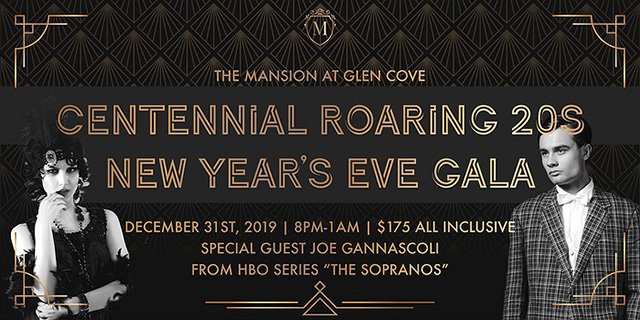 Image: The Mansion at Glen Cove
Centennial Roaring 20s New Year's Eve Gala - Ring in the new decade with The Mansion at Glen Cove, one of Long Island's historic Gold Coast's Mansions. Dress your roaring 20s best (optional) and end the night with our hangover continental breakfast station. The party starts at 8pm with a one-hour cocktail reception open bar, passed hors d'oeuvres, carving stations, Italian cheese and bread station and much more. Then it's an elaborate four course sit down dinner featuring surf and turf open bar until 1am, hats, noise makers and party favors, live DJ and special guest Joe Gannascoli from the HBO series "The Sopranos" Location: The Mansion at Glen Cove, 200 Dosoris Lane, Glen Cove, (516) 671-6400.
Image: Gatsby On The Ocean
New Years Eve 2020 Roaring 20's Party at The Gatsby - The first annual New Years party at Gatsby on the Ocean. Four hours of open bar with top shelf liquor. Cocktail hour with passed Hors D'oeuvres and stations. Full buffet dinner reception and Viennese included. Champagne toast and live stream of NYC ball drop. Location: Gatsby On The Ocean, 2000 Ocean Parkway, Wantagh, (516) 785-0012.
Image: Flanagans Pub
A 1920's New Years Eve Party - Wear your finest Gatsby-esque 1920's attire and join us for a night of passed appetizers, live music with the famous Guilty Pleasures, and a champagne toast! Give us a call today to find out more! Location: Flanagans Pub, 451 Hawkins Avenue, Lake Ronkonkoma, (631) 588-9843.
Image: 7 in Heaven Singles Events
Long Island Singles 1920's New Years Eve Party - 11th annual Gala New Years Eve just for singles. It's back to the 20's for 2020. Roaring 1920's theme party. All ages welcomed. Includes: Arranged seating by age groups, appetizers, salad bar, carving stations, gourmet buffet dinner entree choices, coffee & desserts, midnight champagne toast, DJ, dancing, free raffle prizes. Location: Hartigan Manor, 519 Central Avenue, Bethpage, (631) 592-9804.
Image by Annalise Batista from Pixabay
Roaring 2020 - Celebrate New Year's Eve in Style & Elegance- Celebrate New Year's Eve in style at Brumidi Lodge. Includes full open bar, cocktail hour (hot/cold stations as well as a carving station), gourmet sit-down dinner, Viennese style dessert station, champagne toast, hats & noise makers, music by J & G Entertainment with DJ Gene & Joanne and Andy from Sensational Sounds as MC, open air photo booth, and the largest dance floor on Long Island. Location: Brumidi Lodge, 2075 Deer Park Avenue, Deer Park, (631) 422-6914.
Image: Katie's of Smithtown
Roaring 2020's at Katies of Smithtown - A little party never killed nobody. Welcome the new year and new decade. Roaring 20's themed New Year's Eve Party. Flappers and gents attire. Live music, magic, dancing, food, champagne along with speakeasy cocktails. Location: Katies of Smithtown, 145 W Main Street, Smithtown, (631) 559-6478.
Image: Shutterstock
2020 New Year's Eve at Land's End - Land's End in Sayville will be helping Long Islanders ring in the New Year with a spectacular evening at the waterfront destination. Attendees will enjoy a premium open bar, hors d'oeuvres, and a gourmet dinner. Location: Land's End, 80 Brown's River Road, Sayville, (631) 589-1888.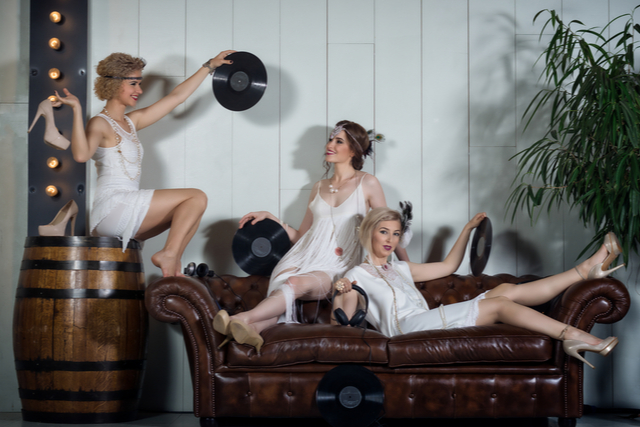 Image: Shutterstock
Roaring 20s Party at Gurneys - Ring in 2020 at Gurney's Montauk as you take a step back in time to the "Roaring 20's". Wear your best Gatsby-inspired attire as you dance to live 20's-inspired jazz and a DJ, toast to the New Year with a glass of bubbly, and experience a weekend full of programming from champagne sabering classes to fitness pop-ups and our annual New Year's Day Polar Plunge. Location: 290 Old Montauk Hwy, Montauk, (631) 668-2345.