Long Island awoke to relatively sunny skies Sunday morning as Hermine shifted to a post-tropical storm and continued to track east, further away from the coastline overnight. If the storm continues to move further east than expected it could mean that NYC will be at greatly reduced risk for tropical storm-strength winds; however, Long Island may still be vulnerable to strong gusts and a Tropical Storm Warning remains active.
The greatest dangers posed by Hermine remain strong winds, high surf, life-threatening rip currents, beach erosion, and flooding. As a result, all ocean beaches on Long Island have been closed to swimming and will remain closed until further notice. A voluntary evacuation of Fire Island has also been extended through 6 PM Sunday evening.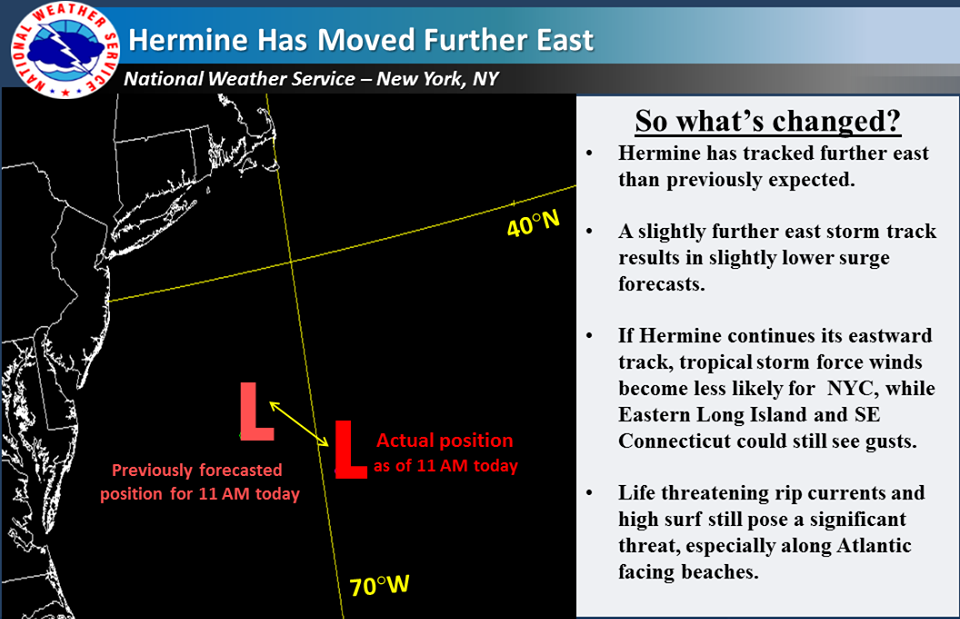 Hermine moved further east than expected, slightly changing the forecast for the storm's impacts. Image by NWS NY Official Facebook Page.
Hermine remains unlikely to make landfall again, but is expected to gain strength as it continues its slow path northward, which means the effects of the post-tropical storm could be felt through Wednesday before it moves further out to sea. The center of the storm is not expected to come near Long Island, but tropical storm-force winds can still extend up to 200 miles out from the middle of the system.
Although no School Closings or Delays have been announced yet, be sure to check our Long Island School Closures Page for the latest updates on your local district closings.
For the most up to date weather information, head over to the LongIsland.com Weather Center, where you can find the latest weather forecasts, advisories and more.
To get the latest traffic & road conditions before traveling, visit the LongIsland.com Traffic Center, and be sure to check out the live traffic feeds on our Traffic Cam Page.
[Source: NWS, Governor Cuomo, Suffolk County OEM]