Whether it's for fitness or competition these gyms offer something for everyone, and at all ages and skill levels. Want to just get in shape or mix up your normal fitness routine, there is a gym for that. Have a desire to learn how to compete? There is a gym for that too. So whether you have dreams of flying high or just want to sweat it out, try one of these Long Island gyms that specialize in teaching boxing techniques.
Babylon Boxing Gym This gym offers boxing lessons for all ages. Groups for all different levels and fitness goals. Location: 1 Arnold Avenue, Babylon, (631) 539-0669.
Title Boxing Club - Authentic full-body boxing workout. Their training utilizes the fundamentals of a true boxer's workout – including proper heavy bag training – to strengthen and tone arms, legs, back, core, stamina and your confidence. Location: 335 Main Street, Huntington, (631) 425-4141.
Heavy Hitters - Boxing classes and training. Offers bootcamps as well. Location: 1915 Lakeland Ave, Ronkonkoma, (631) 567-3538.
Body Shot Gym - Offers training for boxers of all levels and abilities-beginner to advanced. Boxing equipment, apparel and instruction, weights, kettlebells and spin bikes, ladies classes, "white collar" boxing, boxing shows and personal training at all levels. Location: 2 Flowerfield Industrial Park, St. James, (631) 228-4989.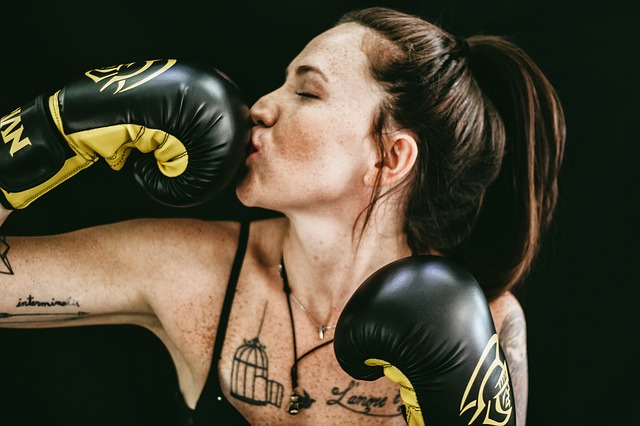 AVM Boxing Gym - A boxing club that offers classes for fitness and competition. Location: 10 Farber Drive, Bellport, (631) 803-8111.
Kayo Boxing - Gym that offers training to learn the technique and form of a pro boxer or just to get in shape. Location: 456 Hempstead Tpke, West Hempstead, (516) 385-6908.
Fitness Through Boxing - Classes for children and adults. Group and private sessions available. Location: 184 Depot Road, Huntington Station, (631) 858-2BOX (2269).
D Lion Boxing - A family owned boxing gym for anyone of all skill and fitness levels. Get in shape while learning the fundamentals and techniques of the sport of boxing. Location: 567 Jericho Turnpike Syosset, (516) 921-5466.
Westbury Boxing Club - A non-profit facility for youths and adults of all skill levels where both men and women can learn, train, and live boxing. Location: 346 Post Avenue Westbury, (516) 333-2531.
New York Fitness and Boxing - For adults and children with group and one-on-one sessions. They also run a boxing-inspired fitness program within a nightclub atmosphere called the Cardiobox Nightclub Experience. Location: 1976 Jericho Turnpike in East Northport, (631) 486-3043.