It's no secret that wine has been the salve for many a shut-in's cabin fever these days. Deemed an essential service, liquor stores have been reporting a brisk business - offering free delivery and curbside pickup. Wineries, it seems, are also getting in on the act.
One of the newest wineries on the North Fork of Long Island is RGNY, rebranded last year from Martha Clara Vineyard, the Entenmann's family-owned label when it was purchased by the Rivero-Gonzalez family who also run a vineyard in Mexico.
The family came to Long Island to make wine specifically for its climate, terrain, and the marketplace (close to New York City).
"We're the new kid on the north fork at the moment.," a representative of the vineyard told LongIsland.com recently.
"The family has a long history of making wine and has a duo of women at the head of their efforts here on the North Fork.
At the helm is CEO Maria Rivero-Gonzalez (her father started their Mexican vineyard as a hobby to get into winemaking more than 20 years ago). Rivero-Gonzalez, who normally splits her time between New York City, Long Island, and Mexico, fell in love with the North Fork and saw potential to expand the brand by staking ground in this region.
Winemaker Lilia Perez, who is a Mexican-American was born in California, trained in her vino-crafting skills in Bordeaux.
RGNY has11 varieties that they say are "minimal intervention," meaning they let the cool climate and terrain dictate the flavor. The North Fork, they say, offers a nice juxtaposition to their Mexican vineyard in both the climate and terrain.
They sell wine under two labels. One is the Scielo line which they describe as expressive, straightforward, and easy to drink. The other is their RGNY label, which is a little more refined. They suggest leaving this wine in the glass a little while to fully appreciate it.
Less than a year old, the vineyard saw the severity of the Coronavirus crisis as the wave crested in the area and began offering free delivery to North Fork right away. As things worsened they had to close their tasting room and began curbside pick up.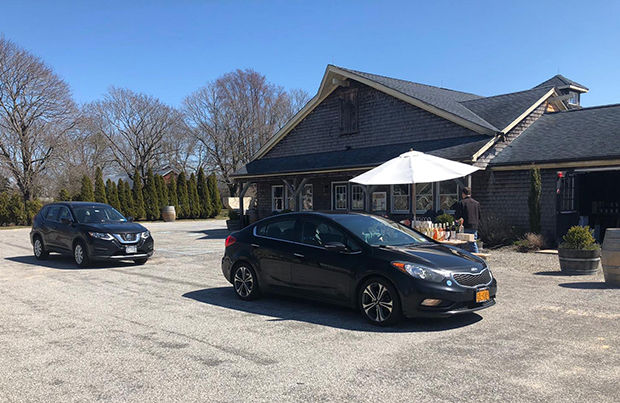 Curbside pickup at RGNY. Photo: RGNY.
The drive-through wine stand worked great for their location on Sound Avenue in Riverhead which already had a good flow of traffic.
"It's been an attraction for people," said the RGNY representative. "People don't have to get out of their car."
While it's very nice to have a good bottle of wine handy as you shelter-in-place the company also focused on how they could bring the experience of the vineyard into people's homes. That's when they developed their quarantine survival kits.
The vineyard offers three kits to order off their website and is offering free shipping in New York.
At-home blending kit. Photo: RGNY.
An at-home blending session kit is based on a fun event they host quarterly where people can blend their own own red wine. The kit comes with directions, tips on how to taste like a pro, a 100ML beaker for mixing, four 500ML carafes of wine for blending and tasting, two RGNY glasses, place mats, a book, a corkscrew and a bottle of Scielo Tinto. That goes for $80.
At-home tasting kit. Photo: RGNY.
Their at-home tasting kit consists of two bottles of wine from their Scielo label, two glasses, a book, tasting notes, two pens, and a video featuring winemaker Perez to hello guide you through your tasting session. All for $60.
Photo: RGNY.
They also have an adult coloring book and pencil set for $10 featuring illustrations by Merijn Hos, an illustrator from the Netherlands. The cook features illustrations of the vineyard, winemaker, and bottles that you can color (preferably while sipping on a nice glass of RGNY wine.)
Bringing the vineyard to their homes in a fun way is just one way RGNY thinks it can help people cope with being cooped up..
"In uncertain times, the best thing you can do is have a nice glass of wine."