Levittown, NY - February 7, 2019 - During World War II, Abraham Levitt transformed Levittown – formerly a nondescript Long Island region consisting of mostly undeveloped flatlands – into a pioneering community in the field of lightning-fast urban development, and all in the name of serving battle-weary veterans returning from overseas in the 1940's.
Today, Levitt's amazing achievements are chronicled in the Levittown Historical Society Museum, located at 150 Abbey Lane in the Levittown Memorial Education Center. But despite the deep and rich history of the town, Historical Society President Paul Manton said that he still runs into residents that have stumbled upon the institution for the very first time; however, also surprising to him are the equal number of informed visitors, some of whom literally traveled across the world to see the town that Abraham Levitt built.
"I get people who come in here and say that they've lived here 18 years and they only just found out now there was a museum here. But then the same day I'll get someone here from Brussels or Belgium or Tokyo," he said. "People come to this Museum from all over the world, such as University students who are studying 20th century American History, architecture, civil engineering, urban planning…meanwhile, I'm wondering how someone heard about us in Brussels of all places?"
Previously consisting mainly of farmland, Abraham Levitt spearheaded an unprecedented degree of low-cost housing development in 1947, with the aim to provide returning WW2 vets with affordable housing options; available were Cape Cod and Ranch-style dwellings, ranging in price from $6,990 to $9,990. 17,447 units were erected by the end of 1951, all utilizing a groundbreaking 26-step reverse assembly line technique that soon set the standard for construction worldwide, according to Manton.
Multiple exhibits display painstakingly re-created facets of 1950's American life. Photo Credit: Chris Boyle.
"You could go from a cement slab to a house that you could live in – with all the extras – in 48 hours. They were building 18 houses a day, 36 during peak production," he said. "One of the reasons they could build so fast was because the houses didn't have basements…building a basement for each home would have slowed everything down massively. In fact, Town of Hempstead building codes at the time required homes to have basements, and Levitt staged a march on Town Hall in May of 1947 with hundreds of veterans, and they changed the law that day."
The museum, originally created in 1997, was only to be a temporary exhibit, but Manton noted that it became so popular that it eventually became permanent and, soon, expanded upon. The museum itself seems to magically encapsulate a bygone era of Levittown, a time when life was far less complicated than it is today. Multiple exhibits display painstakingly re-created facets of 1950's American life, including a bedroom, kitchen, and living room, all adorned with period-specific items and relics. D
etailed models and pictures abound
, chronicling the evolution of Levittown's construction, starting with its humble farming roots and finishing with the proud community that Abraham Levitt gave birth to.
An 1950's-era television/stereo combo unit. Photo Credit: Chris Boyle.
"Our collection was accumulated largely through donations…people would clear out grandma's attic and such. A lot of the photographs you see here are things that were in the public domain, and some of them were donated by families," Manton said. "Originally the museum was smaller, but as the collection grew and interest in the museum along with it, the school district allow us to knock down the far wall, expanding our space."
Admission to the museum is completely free, and the museum itself is staffed entirely by passionate, knowledgeable volunteers who are able to give tours and answer questions, serving as conduits to the past that any history buff should take advantage of.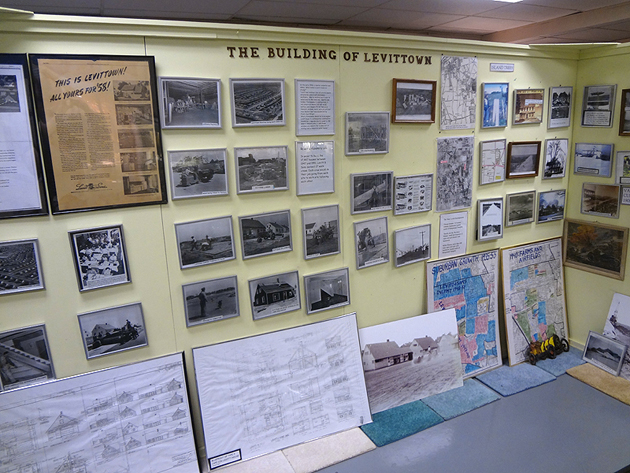 D
etailed models and pictures abound in the
Levittown Historical Society Museum. Photo Credit: Chris Boyle.
"The museum is a great source of pride for me. It's an important story because it's not just the story of a local community…we're part of a larger phenomenon," Manton said. "There are suburban developments all over the world that were designed by some of the mass production techniques and marketing and labor techniques that were revolutionized right here in Levittown. Levittown is a global phenomenon."