During his 20 years in the wine industry, certified sommelier Adam Schneider had seen many types of wine shops and dreamed of opening his own someday. He kept a close eye on what mattered to customers, and knew that when he finally had his own place, hospitality, in addition to offering quality wine and spirits, had to be a priority.
Schneider put his dream into action and last year opened Sip & Say Craft Wine & Spirits in Merrick with his sister Dawn Vieira. Sip & Say was created to be a welcoming place where customers can experience the joy of craft wine and spirits.
Sip & Say sells a large selection of wines and spirits at a variety of price points, but where it differs from many other wine stores is that customers can try the wines before they buy — the "sip" part of Sip & Say, Schneider said. He added, "The customer experience is everything and we want to make sure people feel educated and comfortable throughout the time they are in our store." Schneider and Vieira are both wine experts and are happy to share their knowledge with customers.
Every bottle tells a story
The "say" part of Sip & Say relates to the free engraving that is available on most bottles with every purchase. Customers can get very creative when it comes to the messaging they add to bottles. It's an opportunity to "tell a story" in a unique way and the bottles become keepsakes for the recipients. Orders can be completed while customers wait.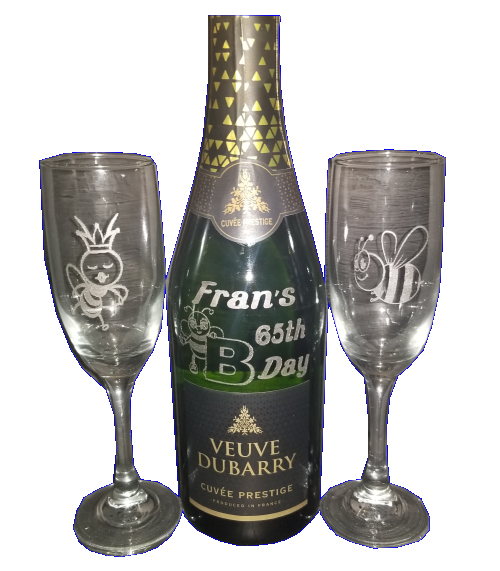 Photos and logos can be added for a small fee and those engravings can take up to 24 hours. While many single engraved bottles are given as gifts for birthdays, anniversaries or other celebrations, Schneider says they also make great corporate gifts or party favors.
Free wine tasting celebrations
Sip & Say will be celebrating its one year anniversary by showcasing its favorite wines of the year. The public is invited to attend the wine tastings on Friday, October 4, from 4- 7 p.m. and Saturday, October 5, 12-3 p.m. and 4-7 p.m. Light refreshments will be served.
Sip & Say Craft Wine & Spirits is located at 2067 Merrick Road in Merrick. For more information call the store at (516) 992-8111 or visit the Sip & Say website or Facebook page.