The fall air brings signature flavors and experiences. The season alone allows you to picture hayrides, pumpkin patches, and rustling rich red, green, and yellow piles of leaves. So why not dabble in these beautiful aspects of fall with some new recipes? With the cooling temperatures comes a new season bursting with new flavors that had once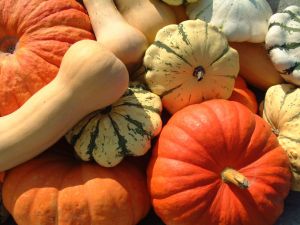 escaped our taste buds. As you try your first recipes, the memories of fall follow close behind. The staple ingredients of Fall have always been pumpkin, cinnamon, and warm spices. These welcoming ingredients can make any one's favorite season Fall, because they are incredibly comforting and inviting flavors. The following are recipes that can liven up your household and treat your family with the tastes of fall. So put on your sweaters, envision the comfort of Fall and start cooking!

Pumpkin Chowder
Soup is one of the most consoling foods. All soups can cure any sickness, are packed with nutrients, and can easily revert you back to childhood. You can pair this soup with a warm, ooey and gooey grilled cheese or your sandwich of choice. This recipe for pumpkin chowder takes about an hour to make, and it makes eight servings. The color of the soup alone is rich and inviting. For only 146 calories a serving, this soup is worth making.
3 tablespoons extra-virgin olive oil
2 leeks (chopped)
3 large garlic cloves (chopped finely)
2 medium bell peppers
2 1/4 pounds pumpkin (peeled and de-seeded)
1 1/2 teaspoons chopped fresh majoram
1/4 teaspoons crushed red pepper
2 bay leaves
1/4 teaspoons salt
1/4 teaspoons freshly ground black pepper
1 1/4 cups corn
6 cups vegetable broth

Directions:
1. In a large pot, heat the extra virgin olive oil.
2. Add the two chopped leeks and heat until tender for 5 minutes. Add garlic, then stir in green peppers.
3.Next, reduce the heat to medium-low, for about 8 minutes. Add the rest of the ingredients into the mixture and cook for about a half hour--making sure the pumpkin is tender.
Creamy Butternut Squash and Shrimp Pasta Bake

This pasta bake allows you to use the fall ingredient of butternut squash in a new way. A pasta bake like this is a dish that is hearty and warm for those cool days. It's a great way to welcome your children back home from their day at school. The ingredients are very simple to find and they build off of one another. If shrimp is not your favorite ingredient, you can add some turkey or roasted chicken, and it will taste just as amazing. You can toast some Italian bread for the side dish or add a nice salad with balsamic vinegar.
1 lb large shrimp (deveined & peeled)
2 Tablespoons of olive oil
3-4 large shallots (chopped)
3 garlic cloves (minced)
1 large red bell pepper (sliced into small pieces)
1 32 oz carton Creamy Butternut Squash Soup
1/2 teaspoon fresh ground nutmeg
1/2 teaspoon dried oregano
1/2 teaspoon dried thyme
2 teaspoons tomato paste
1/4 cup whole milk ricotta
1/4 cup fresh grated Parmesan cheese
1/2 teaspoon fresh ground nutmeg
1/4 teaspoon salt
a pinch or two of fresh ground pepper
1 10 oz carton chopped spinach
1/3 cup Mozzarella cheese
1/2 lb whole wheat penne pasta
Directions:
Preheat your oven to 375 degrees.
Boil the water and then add pasta.
As you wait for the pasta , heat 2 tablespoons olive oil in a non-stick skillet. Toss in the shrimp you peeled and deveined, cooking for a couple minutes on each side, or until pink. Then set the sauteed shrimp aside.
Add the shallots, red pepper, and garlic back into the skillet you used for the shrimp. Add pinch of salt and pepper, oregano and thyme. Let that cook for about 10 minutes on medium heat until softened.
Add the tomato paste into the skillet and allow that to cook for a minute or so. Then, incorporate the Creamy Butternut Squash Soup and nutmeg. Bring that mixture to a simmer.
Next, in a large bowl, combine the previously cooked pasta, the shrimp, ricotta, Parmesan cheese, spinach, nutmeg, salt and pepper. Add the sauce to the mixture.
Spray a casserole dish with non-stick spray. Then spread the pasta mixture evenly throughout dish.
Sprinkle the rest of the sauce and the shredded cheese over top of the pasta and let the pasta bake in the preheated over for 20-25 minutes or until bubbly.

Maple-Oatmeal Scones
These scones are a refreshing addition to your morning routine. Instead of investing hundreds of dollars a month on breakfast expenses, you can make your own scones. These scones can even be made for the week and then stored and frozen until you need them! The flavors of maple and oatmeal are so 'homey' and really give you a sense of fall. You can pair these scones with your morning coffee or a light omelet, or just grab them on the go. The recipe makes about 14 scones, so you will have plenty left over for the week.


4½ cups flour
1 cup quick-cooking oats
2 tablespoons baking powder
2 tablespoons granulated sugar
2 teaspoons salt
4 sticks of cold unsalted butter (cut into small pieces)
½ cup buttermilk
½ cup pure maple syrup
4 extra-large eggs( lightly beaten)
1 egg beaten with 1 tablespoon milk or water, for the egg wash

For the Glaze:
1¼ cups confectioners' sugar
½ cup pure maple syrup
1 teaspoon pure vanilla extract
Directions:
Preheat your oven to 400°F.
Line two baking sheets with parchment paper.
In a large bowl, combine the oats, baking powder, flour, salt, and sugar. Mix the cold butter in and keep mixing until the butter develops into small balls.
Combine your wet ingredients: add your buttermilk, maple syrup, and eggs and add quickly to the flour mixture.
Place your dough on a floured surface. Flour your hands and your rolling pin and roll the dough until it is about an inch thick.
Cut the rolled dough into 3-inch rounds with a plain or fluted cutter and place the cut dough onto a baking sheet.
Next, brush the cut dough on the parchment with the egg wash.
Bake for 20 to 25 minutes.
While the scones are baking, you will make the glaze. To make the glaze, combine the confectioners' sugar, maple syrup, and vanilla.
After the scones bake, let them cool for about 5 minutes. Then drizzle each scone about a tablespoon of the glaze. If you want, you can sprinkle some of the rolled oats on top of the finished scones.