Renting a boat is perfect for new boaters who want to experience the joy of being on the water and boat enthusiasts who aren't ready to make the commitment to boat ownership. Here are places where you can rent a boat whether you want to catch the big one, go wakeboarding or simply enjoy the pleasures of cruising Long Island's beautiful waters.
Photo courtsey Long Island Boat Rentals
Long Island Boat Rentals, Port Washington
Long Island Boat Rentals makes exploring Long Island's Gold Coast by boat affordable and convenient. It offers a variety of power boat rentals with up to a 10 person capacity. Take an excursion up to the Throggs Neck Bridge, Huntington Bay and Norwalk Harbor while getting close up views of mansions and other historic buildings. Are you a new boater? You can receive training or hire a captain to pilot your rental.
Photo courtsey Peconic Water Sports
Peconic Water Sports, Sag Harbor, Southold & Montauk
Peconic Water Sports has three convenient locations on the North and South Forks. Have the perfect summer day fishing in Montauk, sunbathing on Shelter Island or discovering Sag Harbor. Peconic Water Sports offers half day, full day or multi-day boat rentals and has a fleet of boats ranging in size from 21 to 23 feet. All safety equipment and GPS navigation are included.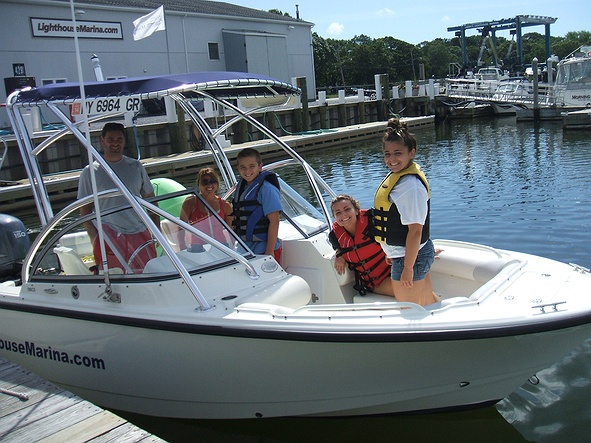 Photo courtesy Lighthouse Boat Rentals
Lighthouse Boat Rentals, Aquebogue
At Lighthouse Boat Rentals based at Lighthouse Marina in Aquebogue, you can rent a pontoon boat and enjoy easy access to many areas of the East End including Peconic Bay, Sag Harbor, Shelter Island and Greenport. Whether you want to go wakeboarding or tubing or take a relaxing cruise on the water, Lighthouse Boat Rentals offers clean and reliable family boats.
The Dinghy Shop, Amityville
Rent a sailboat at The Dinghy Shop. Located on the Great South Bay, it offers two-hour rentals of Sunfish sailboats that accommodate 1 -2 people.
Strong's Marine, Mattituck and Southampton
Strong's Marine has three marinas on the North Folk and the Hamptons and offers boat rentals at its Southampton and Mattituck locations. It rents new-model Cobalt and Pursuit boats from 18'-24' with tubes and skis available. New boaters can also choose an on-water lesson package.
Silly Lily Fishing Station, East Moriches
Silly Lily Fishing Station has been around since 1932. It offers rentals of 16 ft rental dories with or without a motor. Oars, flotation cushions, life jackets and gas are included. Its website says that motorized dories are "the best way to get to the beaches or to fish with ease." If you prefer to use windpower, sailboats are also available and come equipped with life jackets, cushions and an area map.