FBI Rescues 168 Victims from Child Sex Trafficking, Arrests 281 Pimps
The eighth annual Operation Cross Country resulted in the arrest of hundreds of pimps and the rescue of minors forced into prostitution.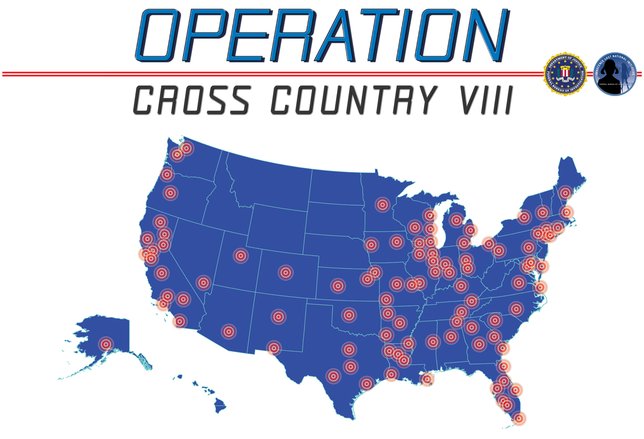 An annual week-long effort to combat child sex trafficking ended in the rescue of 168 juveniles and the arrest of 281 pimps, the Federal Bureau of Investigation announced on Monday, June 23. Working in conjunction with various local, state, and federal agencies—as well as other organizations including the National Center for Missing and Exploited Children (NCMEC)—the FBI made arrests and recovered children in 106 cities and 54 field divisions across the nation.
The eighth annual Operation Cross Country was a part of the Innocence Lost National Initiative which began in 2003. A partnership between the FBI's Criminal Investigative Division, NCMEC, and the Department of Justice, the initiative was established to combat a growing trend of child prostitution; thus far 3,600 juveniles have been rescued and 1,450 convictions have been handed down to offenders.
"Targeting and harming America's children through commercial sex trafficking is a heinous crime, with serious consequences," said FBI Director James B. Comey. "Every child deserves to be safe and sound. Through targeted measures like Operation Cross Country, we can end the cycle of victimization."
"Child sex traffickers create a living nightmare for their adolescent victims," added Leslie R. Caldwell, Assistant Attorney General for the DOJ Criminal Division. "They use fear and force and treat children as commodities of sex to be sold again and again. This operation puts traffickers behind bars and rescues kids from their nightmare so they can start reclaiming their childhood."
$3.1 million in assets have been seized during prior efforts, and 14 life sentences have been received by individuals convicted for child trafficking. Of the 281 pimps arrested on state and federal charges as part of this past week's campaign, three were from the FBI New York field division. Three victims were also rescued from the NY area, as well as two more from the Buffalo field division.
"These are not children living in some faraway place, far from everyday life," said Comey. "These are our children. On our streets. Our truck stops. Our motels. These are America's children."
Operations usually begin as local law enforcement operations, commonly targeting truck stops, street "tracks," casinos, and websites that promote escort or dating services. As initial arrests are made, the FBI says it begins to uncover organized efforts to prostitute women and children across multiple states and from there it works to rescue minors while building cases against those who exploit them.
"Our job is to meet the victim where they are at," stated FBI Victim Specialist Dani Geissinger-Rodarte. "If the victim will accept a sexual assault exam, if she will go for STD testing, for counseling, even clothing. We give them what they are able to receive, and that's where we have to leave it. When the victim is ready, they need to know that we are there and we'll give it to them when they are ready."
Photos
Videos
Join Our Weekly Newsletter

Sign up for a free weekly newsletter covering things to do, hottest local headlines, and everything Long Island! Read more here or enter your email to signup.