You may have heard of Gardener's Island but do you know about Lion Gardiner? You might be aware of the part Long Islanders played in the spy ring that helped turn the tide of the American Revolution but do you know the players involved? Which former NYPD commissioner, NYS governor, and US president (all one person!) is buried on Long Island?

Below are nine historical figures whose graves are right here on Long Island. You can visit these sites and pay respect to their place in history as well as get a sense of the greater influence Long Islanders had in both local and American history.
Photo: Americasroof at English Wikipedia [CC BY-SA 2.5 (https://creativecommons.org/licenses/by-sa/2.5)]
Where: South End Cemetery, East Hampton. Lion Gardner's name might strike a chord. He founded the first settlement in New York State on Long Island in East Hampton. Both Gardiner's Island and Gardiner's Bay where the island is located are named for him. The bay is located between the eastern ends of Long Island's forks. The island is notable for being one of the largest privately owned islands in the United States. Gardiner's family has owned the island since 1639, the year bought it from the chief Wyandanch of the Montaukett tribe.
Photo: https://www.fpcsouthold.org
The Cemetery of the First Presbyterian Church of Southold
While not a specific figure, this cemetery, founded in 1640, was established by Puritans who also founded the town of Southold. It is noted for being the oldest surviving colonial cemetery in the State of New York. Both the Town of Southold and the First Presbyterian Church had shared responsibility for the cemetery until 1841. After that year, the town gave up its ownership completely to the church. In the exchange, the church agreed that it would continue the practice of accepting for interment any resident of the town to this day.
Where: Woodhull Cemetery, Cranberry Drive, Mastic Beach. General Nathaniel Woodhull was a brigadier general of the New York Militia during the American Revolution. Legend has it that he was stabbed by an English officer when he refused to say "God save the King," instead saying "God save us all!" He was buried in the Woodhull family's burial ground.
Photo: Traitor [CC BY-SA 3.0 (https://creativecommons.org/licenses/by-sa/3.0)]
Where: Setauket Presbyterian Church, The Village Green, 5 Caroline Avenue Setauket. Woodhull was a relative of Nathaniel and member of the Culper Spy Ring during the Revolutionary War. He used the alias "Samuel Culper." A friend and confidant of George Washington, the acts of the spy ring assisted in the success of revolutionaries. He was a major character in the AMC television series Turn: Washington's Spies. Woodhull is buried at Setauket Presbyterian Church. The church was established in 1660.
Where: Saint Georges Manor Cemetery, Cemetery Lane, East Setauket. While her husband was imprisoned during the Revolutionary War and eventually paroled to Connecticut, Anna Strong became a member of the Culper Spy Ring in Setauket. It is said she may have been the only woman in the famous spy ring. Her system of hanging specific laundry items on her clothesline signaled to Patriot spies where they should meet to exchange information. She was also a major character in Turn: Washington's Spies on AMC.
Where: Lake Ronkonkoma Cemetery, 231 Hawkins Avenue, Lake Ronkonkoma. The cemetery was established circa 1820, and according to their records, the town's first Civil War Casualty, William Senier, was buried there in 1861.
Where: Oakland Cemetery, Sag Harbor. When Sag Harbor's Captain David Hand died at the age of 81 in 1840 he had already buried five wives. Captain Hand was celebrated Revolutionary war hero and shore whaling captain, according to the Sag Harbor Whaling Museum. According to a biography of Captain Hand on the site, he had been a prisoner of war five times before the age of twenty, earning him the nickname "Slippery Dave" for his numerous escapes from British prison-ships. He and all of his five wives are buried at Oakland Cemetery in Sag Harbor.
Photo: Americasroof [CC BY-SA 2.5 (https://creativecommons.org/licenses/by-sa/2.5)]
Where: Green River Cemetery, 787 Accabonac Rd, East Hampton. Pollack, the artist who was one of the main innovators in abstract expressionism and is known for his dynamic paint-splattered canvases, is buried at Green River Cemetery along with his wife, Lee Krasner.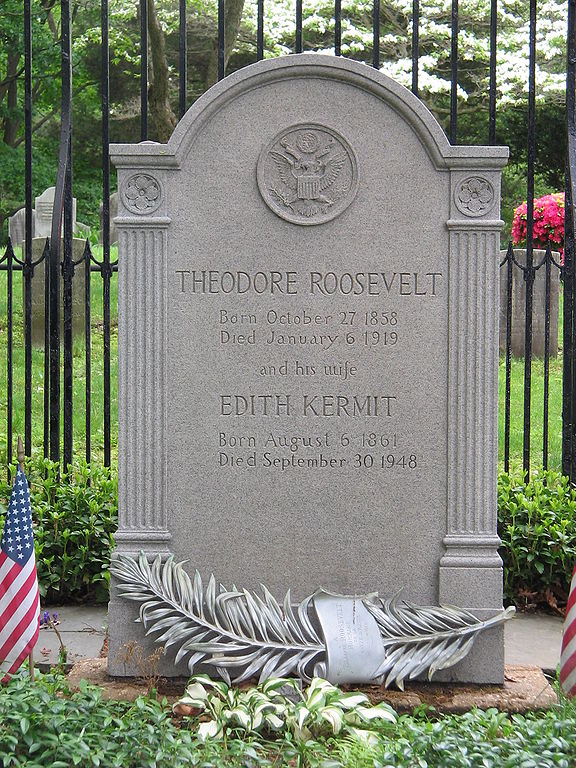 Photo:Shadow2700 at the English language Wikipedia [CC BY-SA 3.0 (http://creativecommons.org/licenses/by-sa/3.0/)]
Where: Youngs Memorial Cemetery, Oyster Bay. You might remember Theodore "Teddy" Roosevelt as the 26th President of the United States, the 33rd Governor of New York, Nobel Peace Prize recipient, or his stint as New York Police Department Commissioner. This giant of history is buried in Oyster Bay. Bully!