Bretagne, last of the 9/11 Search & Rescue Canines who helped find countless victims trapped in the rubble of Ground Zero, died peacefully in Cypress, Texas on Monday, June 6 at the age of 16.
The Golden Retriever, who was suffering badly in recent months due to the effects of old age, was euthanized at Fairfield Animal Hospital in Cypress, Texas. Over a dozen emotional firefighters lined up outside of the Hospital, all standing at full attention, and respectfully saluted Bretagne as she was brought inside; they remained as such when she left, motionless and covered with an American Flag, an honored and courageous hero to one and all.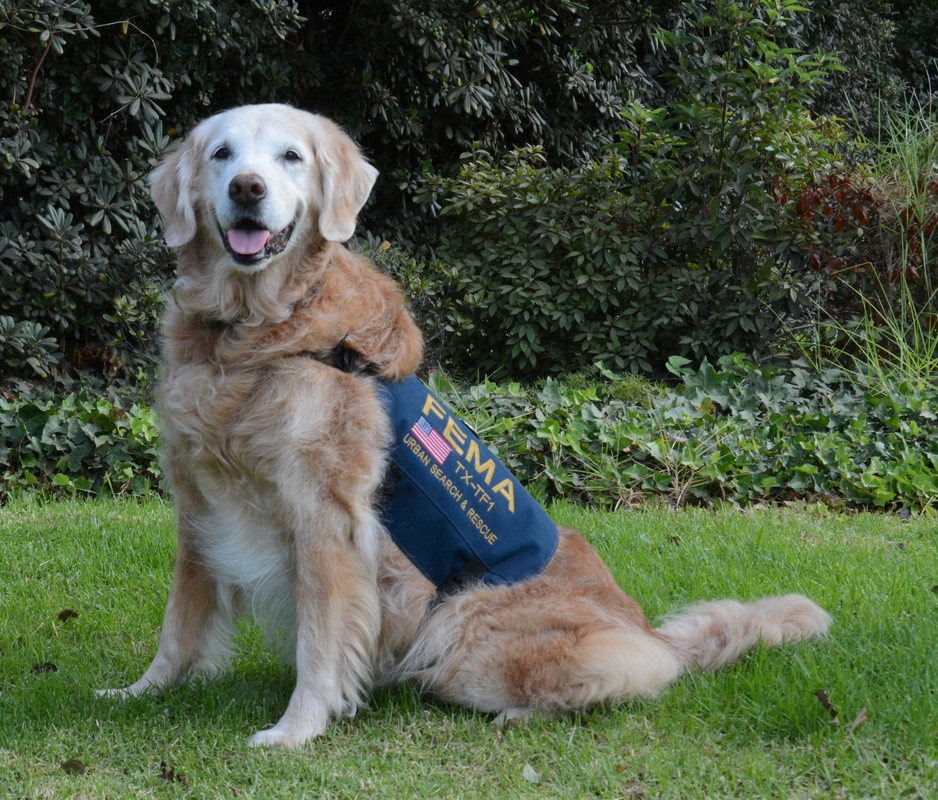 Bretagne and her handler, Denise Corliss deployed to the World Trade Center in the wake of 9/11, and spent 10 days assisting in search & rescue efforts. Photo by Texas Task Force 1.
Bretagne (pronounced "Brittney"), along with her handler, Denise Corliss, was a member of Texas Task Force 1 (TX-TF1), one of the 28 teams under the Federal Emergency Management Agency (FEMA) who worked at the site of the World Trade Center for 10 days in 2001, searching for survivors and, later, remains of those less fortunate. Ground Zero was the 2 year-old Bretagne's her first-ever assignment as a Search & Rescue Canine after having been certified as such by FEMA, and was truly a trial by fire if there ever was one.
Bretagne and Corliss first met when the pup was but a mere 8 weeks old; a Cy-Fair Fire Department volunteer, Corliss had been on the lookout for the right dog to train for Search & Rescue work, and noted that Bretagne's determination, drive, and personality made her the idea candidate for the tough assignment. The two quickly became best friends.

Bretagne & her handler, Denise Corliss at Ground Zero, just days after the 9/11 Terror Attacks. Photo by Texas Task Force 1.
After spending ten days assisting in the search & rescue efforts at Ground Zero after 9/11, Bretagne continued to distinguish herself over the years with Texas Task Force 1, bravely responding to nearly a dozen other disasters, including Hurricanes Katrina, Rita and Ivan, and was responsible for saving many lives during that time.
Despite the harrowing assignments that she would regularly have to contend with, Bretagne nonetheless is remembered as a warm and affectionate dog whose special ability to seek out those who needed emotional support made her as much a helpful therapy animal as it did a courageous First Reponder, according to a statement released by Texas Task Force 1.
"If you ask anybody whoever knew or trained with Bretagne, they would tell you 'Oh she just loves me!' That's the kind of dog she is, affectionate to everybody, and fiercely devoted, never takes her eyes off her handler," they said. "She has always taken her job as a search dog seriously, but herself not so much. Always ready for a belly rub, or a treat. In remembering her first deployment at the World Trade Center, there are images of her going to where she was directed to search, the unknown, the chaotic environment. But even then, she knew who needed the comfort of a dog, which firefighter needed to hold her close and stroke her fur."
Bretagne eventually retired from Search & Rescue at the age 9, but don't think she slowed down during her Golden Years; she continued to serve as a goodwill ambassador for the Cy-Fair Volunteer Fire Department in Harris County, Texas, as well as a reading assistance dog.
"Bretagne's calm demeanor and warm heart helped the young and old through their own difficult moments," said the Cy-Fair Fire Department in a statement.

"Each week she would visit a first grade classroom and listen to young readers, providing a non-judgmental ear and soft paw. She also visited students with special needs, such as autism. Her calm demeanor and warm heart helped the young and old through their own difficult moments."

In 2015, Bretange & her handler Denise Corliss visited the WTC Memorial, during Bretange's first trip back to New York City since her efforts as a 9/11 Search & Rescue Responder. Photo by Texas Task Force 1.
Bretagne was also featured in a non-fiction book about senior dogs and has held audiences with Texas First Lady Cecilia Abbott and former President George H.W. Bush. Later, at the age of 15, Bretagne, and her longtime handler Denise Corliss, returned to the site of her very first assignment – New York City – to visit the 9/11 Memorial Museum, and was later "interviewed" by Tom Brokaw of NBC News.
In 2014, the American Humane Association nominated Bretagne for their illustrious "Hero Dog Award," and last year she made headlines as she celebrated her "Sweet 16" birthday in New York City .
Bretagne – just shy of her 17th birthday – had begun to experience a host of health problems, a lack of energy, kidney failure, and a loss of appetite; it was then that Denise Corliss noted that it was time for her beloved partner to finally rest after a lifetime of hard, dedicated work for others.
[Source: Texas Task Force 1 Urban Search & Rescue, Bark Post.]