Woodbury, NY - April 22, 2016 - On April 22, the Crest Hollow Country Club of Woodbury was host to hundreds of attendees at a gala occasion- the 2016 Folio Awards, a lavish annual luncheon whose purpose is to salute the very best in local Long Island media and reporting.
Held by the Fair Media Council (FMC), one of the oldest and most successful media watchdog organizations in the country, the Folio Awards pay homage to a number of Long Island-based groups and individuals who exemplify what hyper-local reporting means to the communities that they serve. In addition, the event was highlighted by the awarding of FMC's Lifetime Achievement Award to a true legend in the industry–Ernie Anastos, the Emmy-award winning news anchor for Fox 5 News.
At a speech given at the event, Fair Media Council CEO and Executive Director Jaci Clement noted that the day's winners were responsible for tapping into the pulse of what Long Islanders want to see, hear and read in their news.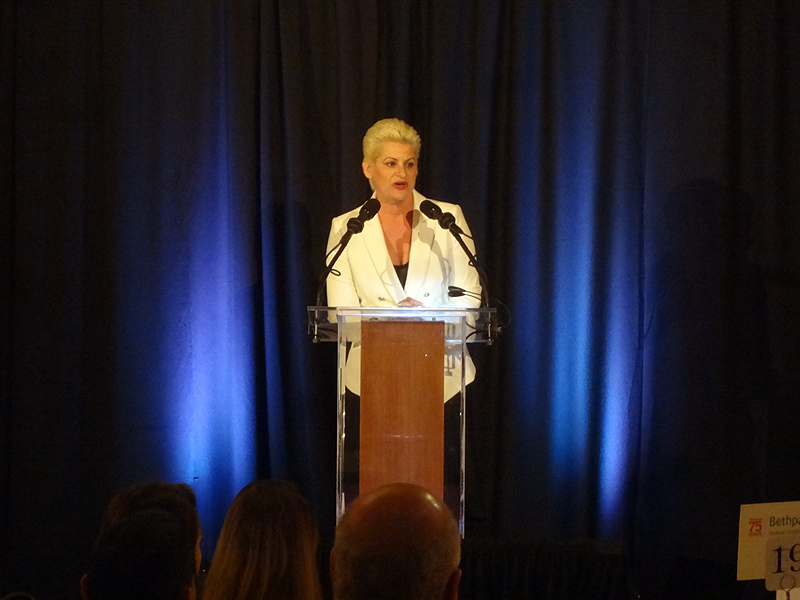 "To the winners, you should know the judges remarked time and time again that the quality of the work submitted this year was truly outstanding. So thank you for working so hard every day, to make Long Island a better place to live and to work," she said. "It's a tough job, but we're lucky to be able to call our local media the best in the world. The anchors and news management on the dais, the reporters, producers and editors in the audience – they can work in any market, anywhere. That can't be said of media working in other markets. New York demands excellence. It demands talent. And it demands commitment to public service."
Winners at the Folio Awards included NBC New York's I-Team for coverage of issues within the Nassau County penal system, a New York CBS 2 report on alleged administrative and financial issues at Hempstead High School, and LongIsland.com for their extensive coverage of 2015's Winter Storm Juno. Award presenters included PIX11's Brenda Blackmon, FOX 5's Greg Kelly & Rosanna Scotto, WCBS/WPIX's Craig Allen, NBC New York's Michael Gargiulo, and many others.
Clement touched on the current state of Long Island journalism; she highlighted its many strengths, but also noted that it requires expansion and more community engagement, and took the time to point out several established and up-and-coming news outlets that are covering local events, politics, crime, and more in an aggressive and informative manner.
"What brings us together is our need for information. The Fair Media Council wants to see as many news outlets covering the region and Long Island as possible. We want you to have a variety of news to choose from, as well as a variety of news and information to assist you in making important decisions. And along with that variety, we want our local news outlets to be responsive to the community," she said. "Now let's look at the media in our backyard, our Long Island based outlets. Jim Condron is here – he runs 5 radio stations for connoisseur media. Our college radio stations are offering news and information that's more and better than perhaps ever before. Longisland.com is quickly amassing traffic, and Long Island Business News has made its mark in covering real estate, in particular."
Clement lavished praise upon Lifetime Achievement Award winner Ernie Anastos, calling him someone that has been the very face of the ever-changing New York news landscape since he first picked up a microphone back in the 1970's, and has continued to bring families the best in hard-hitting and ethical journalism to this very day.
"He's someone this region has turned to in good times, and he's someone we've relied upon to help us through the bad times. He's won more than 30 Emmy awards and nominations," she said. "Ernie, I hope you enjoy today's celebration and I thank you for being a friend."
After receiving heartwarming tributes in the form of a picture montage set to music covering of his years of reporting and a touching and humorous introduction by his boss at Fox 5, Byron Harmon, Anastos thanked those in attendance, encouraging them to always be positive, and to never, ever give up on their dreams.
"This is such a wonderful award, and I want to thank Jaci for putting this all together. It really means something to me and this is a very special day for me. And looking around this room today, I think I've worked with everyone here…and if I haven't, I will, because I'm not done yet, and neither are you! We have a lot of great years left," he said. "The importance of having a sense of enthusiasm, a passion for life, to create new things and new ideas… to keep growing and become even better at what it is that you do. The key to life – and not just in journalism – is to always think about what you're doing and how you can do it better. That's the spirit, and I want you to have that kind of passion, and I don't want you to miss out on that."