Escaping the political upheaval in their homeland, Martin and Anna Wesnofske travelled from Poland to the United States in the 1870s. The German-speaking Wesnofskes settled in what is now the Queens/Nassau border on the Hempstead Plains and bought their first farm in 1892 where they raised seven children. Their kids migrated eastward, bringing their farming traditions with them. On Long Island if you were a farmer, chances are you were growing potatoes. (By the 1940s up to 80% of all farming on Long Island was dedicated to potatoes.)
The Wesnofskes were no exception. Saying Long Island was just a bunch of potato fields was not too far off the mark before sprawl changed the landscape from rural farms and open spaces to suburbia.
Ed Wesnofske chronicled his family's history in words and pictures and shared some of these great old time pictures of what it was like to farm on Long Island over the last 150 years. Scroll down to see some great pictures Mr. Wesnofske shared with us. All pictures and captions are courtesy of Ed Wesnofske.
Old County Road, Hicksville, Nassau County, NY. Martin and Anna Wesnofske's oldest son, John, and his Speedwell truck (Sept 15, 1915). Loading the Speedwell for market with produce from the mule drawn field wagon. License plate is 1914. John was an early user of truck transport to market. In the picture you see John's oldest son, Joseph, and and farm hand Bill Gordon loading produce for market at his Hicksville farm. The farm was located at today's intersection of Old County Road and the east side of today's Wantagh State Parkway.
Picking Potatoes (1919). By 1919 mechanized digging drawn by tractors had arrived but picking potatoes and placing them in burlap sacks in the fields was still hand labor. Notice steel wheels with large cleats for traction in fields. The youngest five of the ten John Wesnofske children are picking.
Mule drawn cultivation (1917). John Wesnofske's oldest son Joseph cultivates with two mules. Mules were known to be difficult and stubborn. Family folklore records these creatures as having been exceptionally difficult to manage. Eventually cultivators would be fixed to tractors with fixed width wheels. As farming became more mechanized for planting, cultivating, spraying, digging, loading and harvesting from the fields, precision in making rows uniform in size and parallel became necessary.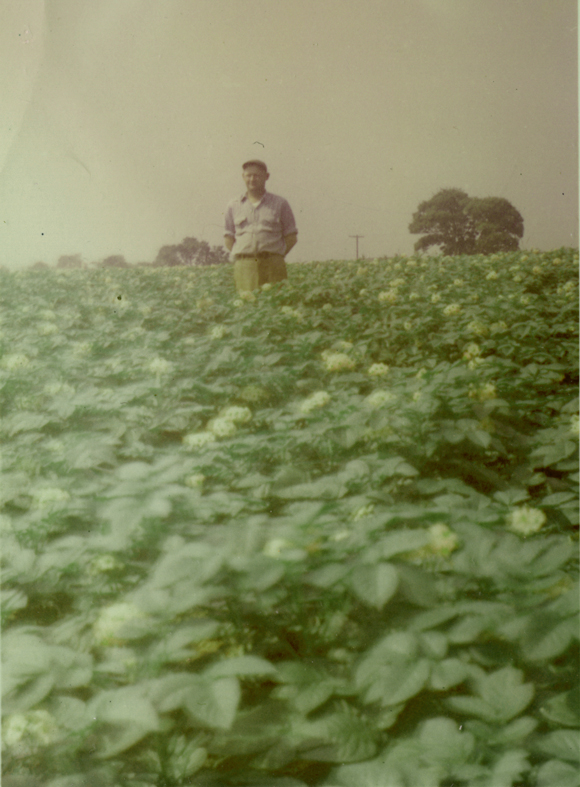 Vincent Wesnofske Sr. (grandson of Martin and Anna Wesnofske) amidst his Sagaponack potatoes in full bloom in June 1959.
(1959). Vincent Wesnofske Sr. harvesting and Vincent Wesnofske Jr. driving. They are bulk loading a GMC truck. Note the weighted tractor wheels for additional traction to handle pulling the heavy and awkwardly maneuvering John Bean potato combine. Potato combines replaced simpler mechanical digging, hand picking and hand loading of trucks in the mid 1950's. Larger tractors and four wheel drive made for better combining in recent years.
(Circa 1948). Grandson Remi Wesnofske's farm in Melville, N.Y. A Boggs constructed wooden loader, an early mechanical assist in removing the need for human effort to elevate bagged material of both raw planting components and finished potato produce bags onto trucks as you see in this photo.
(Circa 1965). Bridgehampton, N.Y. Remi Wesnofske with his "cab over engine." White tractor and a flatbed trailer loaded with 100 lb. sacks of potatoes.
In formation. (1985). Great Grandson Raymond Wesnofske's farm on Halsey Lane (East side), Bridgehampton, NY. Farm helpers Walter 'Whitey' Jazombeck in front on the Oliver 1950T with Paul Dankowski and Gary Kalish driving the Oliver 1850 tractors to 'hill up' the rows of potatoes and cultivate to keep down the weeds.
Middle son Martin Wesnofske II with his son Harold, driving, Edwina standing and other older children. Martin II's Fordson Tractor, (1929). Notice the Fordson's metal wheels and cleats for traction. Hand crank starters were often dangerous because of the engine "kickback" which would suddenly rotate the crank the opposite way from which an individual was cranking it. Hand, wrist, arm and shoulder injuries were a common event for hand cranked engines on early trucks, cars and tractors. (Photo provided by grandaughter, Anna Blinn).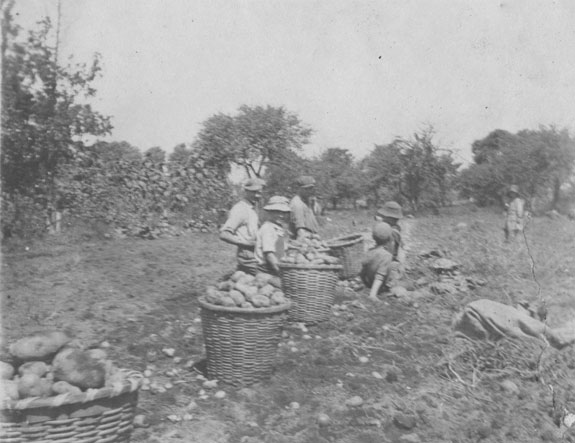 Summer (1919). Making the Family Farm Work. Five Wesnofske brothers picking potatoes. Left to right: Leonard, Remi, Joseph, Vincent (back to camera). Louis.