With March being National Women's History Month, what better time than this is there to call to mind some of the famous females who hail from Long Island! From authors and athletes, to fashion designers and first ladies, Long Island has been called home by many noteworthy women. With so many women on that list, it would be impossible to name them all. Here are just a few leading ladies who live, or have lived, on Long Island.
Pat Benatar - Born in Brooklyn, but raised in Lindenhurst, Pat Benatar is a four-time Grammy Award winning singer with hits such as, "Love is a Battlefield," "Heartbreaker," "Hit Me with Your Best Shot," and many more. She was also the first female artists to perform on MTV.
Sue Bird - Winning countless trophies, awards and recognitions from high school through college, and USA Basketball through the WNBA, professional women's basketball player Sue Bird was born in Syosset.
Sarah Hughes - Born in Great Neck, Sarah Hughes is an accomplished athlete and competitor who won Olympic Gold during the 2002 Olympics, and the bronze medal in ladies' singles in 2001. Hughes is an avid advocate for Breast Cancer Awareness and a graduate of Yale University.
Donna Karan - World famous fashion designer Donna Karan, known well for her DKNY label, was raised in Woodmere and attended Hewlett High School in Nassau County. In 2004 she was given the Lifetime Achievement Award by the CFDA, Council of Fashion Designers of America.
Jacqueline Kennedy Onassis - A style icon and First Lady to our 35th President, John F. Kennedy, Jackie O was born out on the East End in Southampton. In addition to her role as First lady and status as a fashionista, she is also remembered for her contributions to the arts and historic preservation.
Idina Menzel - Now most reknowned for her voice acting/singing as Elsa in Disney's Frozen, Idina Menzel is an actress and singer from Syosset, NY. Menzel won the 2004 Tony Award for Best Actress in a Musical for her role as Elphaba in the first run of Broadway's Wicked.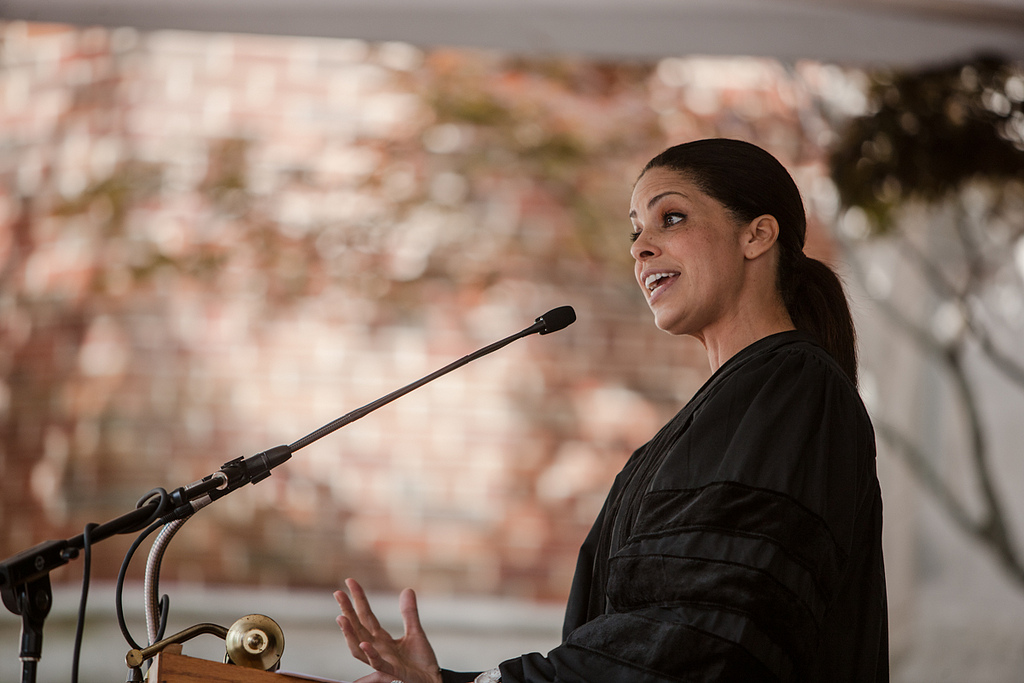 Soledad O'Brien - Chairman of Starfish Media Group and past anchor on CNN's Starting Point, Early Start and American Morning, Soledad O'Brien was born in St. James and attended Smithtown High School East. O'Brien has won multiple Peabody Awards.
Jodi Picoult - Author of books such as The Pact, My Sister's Keeper, Nineteen Minutes and many more titles, was born and raised in Nesconset. Picoult wrote her first story at the early age of five, earned a master's degree in education from Harvard University and won the New England Bookseller Award for Fiction in 2003.
Dawn Steel - Credited as the first woman to head a major Hollywood movie studio, (Columbia Pictures) Dawn Steel helped pave the way for other aspiring women to earn top jobs in Hollywood. Steel grew up in both Manhattan and Great Neck on Long Island.
Meg Whitman - A successful American business executive of many well known companies, such as The Walt Disney Company, eBay, DreamWorks and Hasbro, Meg Whitman was born in Cold Spring Harbor. Back in 2014 Whitman was included in Forbes list of the 100 Most Powerful Women in the World coming in at #20.
Enjoying all of this girl power? Then head on over to one of these great events celebrating women happening on L.I.!
2 Prime Avenue, Huntington, NY 11743
Now thru Sunday, April 3rd; during regular museum hours
$8 / Adult, $4 / Senior, $4 Students, Free for children ages 10 and under
Celebrate women in the arts by making your way over to the You Go Girl exhibition featuring 50 female artists from the 19th century through the present!
One Education Drive, Garden City, NY 11530
Sunday, March 13th from 10 AM - 3:30 PM
Make your way over to the Multi-purpose Room in the Campus Center Building (CBC) at Nassau Community College for this presentation by The Holocaust Memorial and Tolerance Center of Nassau County about sexualized atrocities during and after genocide in the 20th and 21st centuries.
34 Second Avenue, Brentwood, NY 11717
Sunday, March 13th from 2 PM - 3 PM
Follow Dorothy Leeds' story, a good girl who wants to be a bad girl, in an entertaining play at the Brentwood Public Library.
720 Northern Boulevard, Brookville, NY 11548
Tuesday, March 15th at 7 PM
Don't miss out on the showing of REBEL, "the story of one of the thousand women said to have fought in the Civil War, who altered her sex, ethnicity and identity in order to become a Confederate soldier spy and double agent for the Union."
754 Prospect Street, Baldwin, NY 11510
Tuesday, March 15th at 7PM
Partake in a lovely dinner, and enjoy listening to guests speakers, at this first annual event celebrating women's history!
17 Meeting House Lane, Southampton, NY 11968
Thursday, March 24th at 11 AM
Listen in as past Hofstra Professor Emerita Natalie Naylor speaks about the little-known role of Long Island women during the years of the American Revolution!