Watching the big game builds up big appetites. Score a touchdown with your party guests by making these classic snacks. These super easy recipes will be a win no matter what's happening with the game.
Guacamole
Ingredients:
3 avocados (peeled and pitted)
½ cup diced onion
2 plum tomatoes chopped
1 jalapeño
1/3 cup chopped fresh cilantro
Juice of one lime
1 clove garlic chopped
Salt to taste
Directions: Use a fork or potato masher to mash together avocados. Add in onion, lime juice, salt, cilantro, garlic, and the jalapeño. Mix in the tomatoes. Serve immediately with tortilla chips and dig in!
Pigs in a Blanket
Ingredients:
8 oz original refrigerated crescent dough
1/4 cup yellow or Dijon mustard
24 mini hot dogs or cocktail franks
Directions: Preheat oven to 350 degrees. Unroll the crescent dough and spread a light coating of mustard on each triangle. Make three small triangles out of each larger triangle by cutting each of the larger triangles lengthwise into thirds. Put one mini hot dog at the large end of each triangle strip and roll up tightly. Place each rolled up frank seam-side down on a foil-lined, greased baking sheet. Bake for 15 minutes or until golden brown. A traditional favorite!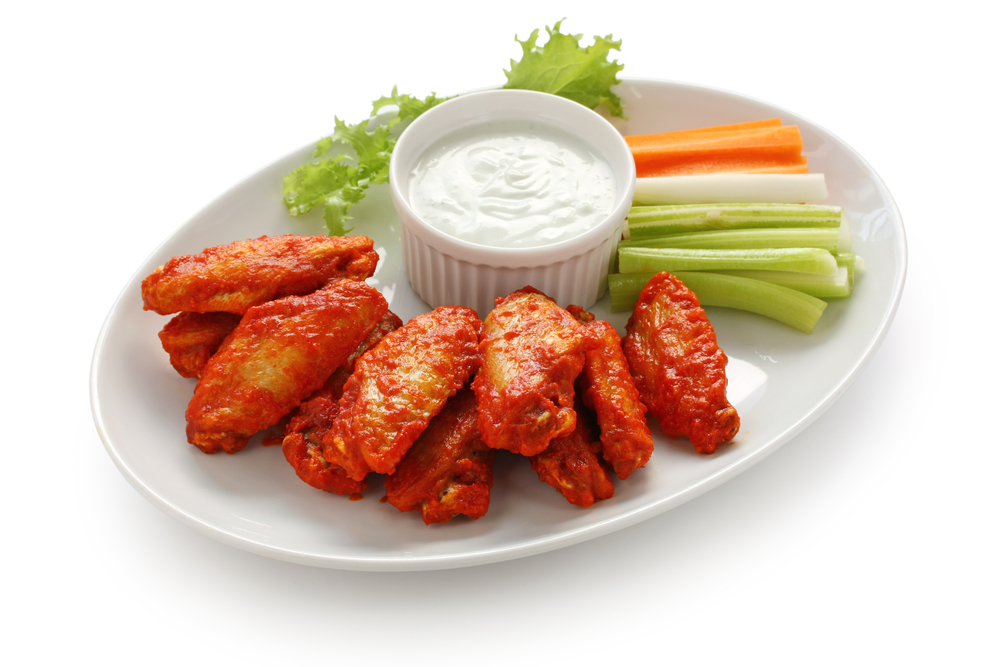 Baked Buffalo Wings
Ingredients:
3 pounds chicken wings (precut or cut with tips removed)

6 tablespoons unsalted butter

1/2 cup hot sauce

2 teaspoons kosher salt
Directions: Preheat oven to 400 degrees. Take the chicken out of refrigerator and set aside while you make the sauce. Remove excess moisture from chicken wings with paper towel.
To make the buffalo sauce, melt the unsalted butter over medium-low heat in a small saucepan. Remove from the heat. Whisk in the salt and the hot sauce. Coat the wings with half of the buffalo sauce and then move the wings to a large bowl.
Cover the bowl and let the wings marinate for a half hour at room temperature. You can also let them marinate in the refrigerator for up to 24 hours.
After marinating, turn on the broiler. Remove the wings from the marinade, shake off any excess liquid, and put the wings on a foil-lined rimmed baking sheet. The oven rack should be arranged between 6 and 8 inches below the broiling element. Broil for 10 to 12 minutes or until the top is browned.
Flip the wings and broil for an additional 10 to 12 minutes until the skin crisps and the meat is tender and pulls easily. Pour the remaining buffalo sauce over the wings and toss to coat.
Serve hot with blue cheese dressing and celery sticks. Makes approximately 6 servings.
Jalapeño Poppers
Ingredients:
8 oz block of cream cheese

1 can refrigerated crescent rolls

1/4 cup minced jalapenos
Directions: Preheat the oven to 375 degrees and grease a cookie sheet or cover it with foil. Combine jalapenos and cream cheese together in a small bowl and set aside. Open the crescent roll can and separate the rolls length-wise along the perforation so that you have 2 sheets of crescent rolls with 4 rolls in each sheet. Pinch the perforations together on each of the two sheets so that you form two continuous crescent roll sheets. Divide the cream cheese mixture into equal halves and spread evenly over both crescent roll sheets. Roll each up from the short end to make 2 long cream cheese rolls, then cut each roll into 12-16 pieces. Place each one on your cookie sheet and bake for 11-13 minutes. Serve warm.
Layered Nacho Dip
Ingredients:
8 oz cream cheese, softened

8 oz light sour cream

1/2 tbsp taco seasoning

15.5 oz jar salsa

2 cups shredded 4-cheese Mexican blend

Tortilla chips
Directions: Put the block of cream cheese in a bowl and mix until smooth, then add sour cream and taco seasoning and stir until well combined. Spread the mixture evenly on the bottom of a baking dish. Add a layer of salsa, and then a layer of shredded cheese. Chill until the cheese firms up slightly, then serve with tortilla chips.