Pet Friendly Beaches
Home » Things to Do » Parks » Dog Parks » Pet Friendly Beaches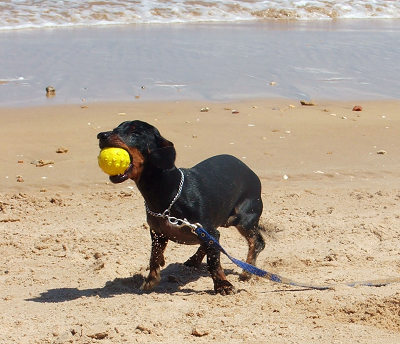 Long Island's beaches are among it's most popular attractions. It's hard to imagine this level of coastal diversity occuring in any other region the size of Long Island, and everyone wants to enjoy these areas - including our pets. But before you bring Fido to any of the village, town, county, state or national parks on Long Island, double check whether or not your pet will be welcome! The following is a list of pet friendly beaches on Long Island:

Hecksher State Park
East Islip - Dogs must be kept on a leash 6 feet in length or shorter, with access to the undeveloped areas only. Please do not bring your dog to the camping areas.

Fire Island National Seashore
Fire Island - Some Fire Island beaches allow dogs between March 15 and Labor Day. During the summer dogs are permitted on the bayside beaches of Fire Island Lighthouse, Sailors Haven, Talisman/Barrett Beach, Watch Hill, and some of the boardwalks. Dogs are never permitted to be in any buildings, within designated lifeguard areas, picnic areas, or areas designated for the protection of wildlife. Dog fare is charged by some ferries who permit canine passengers.

Village of Ocean Beach
Fire Island - Dogs are permitted on the beach only during the offseason, September 16 to May 14.
Camp Hero State Park
Montauk - Dogs are permitted in the park year round when kept on a 6-foot (maximum) leash.

Hither Hills State Park
Montauk - Dogs are permitted in some sections of the park: north of Montauk Parkway, East of Napeague Harbor and west of overlook parking. All dogs must me kept of a leash no longer than 6 feet. Dogs are never permitted in the camping, bathing and picnic areas, in buildings or on walkways.

Montauk Point State Park
Montauk - Dogs must be kept on a 6 foot (maximum) leash, and are never permitted in the camping, bathing and picnic areas, in buildings or on walkways.

Shadmoor State Park
Montauk - Dogs are welcome in the park year-round when kept on a 6 foot leash.

Southampton Town Access Road Beaches (Unprotected Waterfronts)
Dogs are permitted within the Ocean Beach and Bay Beach Areas within 150 feet of the permit-parking section at all time, except from July 1st through Labor Day when they are permitted from before 9 a.m. and after 6 p.m. Dogs must be kept 50 feet away from all endangered species areas.

Town Owned Beaches, Southampton
Dogs are permitted on all town beaches from October 1st to April 1st, but must be kept 50 feet away from any endangered species protection areas.

Gardiner County Park
Bay Shore - Leashed dogs are permitted on the beaches and trails.

For More Information About Pets on Long Island, Try the Following Resources: