Reptile-Associated Salmonella Outbreak Linked to Bearded Dragon Lizards, CDC Says
By Wendy L Published: April 25 2014
A lizard species found in pet stores and homes has been linked to the salmonella outbreak impacting 31 states, including New York.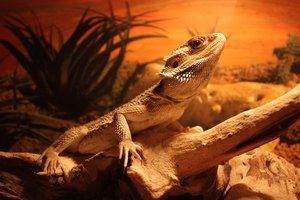 A multistate outbreak of salmonella poisoning has been linked to contact with a lizard species called the bearded dragon.
The Centers for Disease Control and Prevention (CDC) confirmed earlier this week that at least 132 persons have been infected with salmonella as a result of contact with infected bearded dragon lizards.
A multi-state investigation is underway to look into the salmonella outbreak cases that occurred from Feb. 21, 2012 to April 21, 2014.
Multiple bearded dragon breeders who supply the lizards to pet stores have been linked to the recent cases.
Of the 132 cases, 58 percent involved children age 5 or younger. The rare strain of bacteria called Salmonella Cotham also caused the hospitalization of 42 percent of those infected.
In New York, there have been 10 reported cases.
The outbreak impacts a total of 31 states and there have been no reported deaths. Other states involved include Arizona, California, Colorado, Florida, Georgia, Idaho, Illinois, Kansas, Kentucky, Maryland, Massachusetts, Michigan, Minnesota, Missouri, Nebraska, Nevada, New Hampshire, New Jersey, North Carolina, Ohio, Oregon, Pennsylvania, South Carolina, South Dakota, Tennessee, Texas, Utah, Virginia, Washington, and Wisconsin.
There was also reptile-associated salmonella cases between 1998 and 2002 with six states involved then.
Serious salmonella infections are treated with an antibiotic known as ceftriaxone, however in the recent outbreak, one individual was found to not respond to the antibiotic – indicating antibiotic resistance.
The CDC has advised that children younger than 5 and older adults with compromised immune systems to not handle or touch the reptiles or areas where it may have been. Bathing a bearded dragon or cleaning its tank in the household sink or bathtub is also not advised as salmonella can linger.
For precautionary measures, immediately wash hands with soap and water after handling the reptiles and disinfect surfaces it may have been in contact with. It's also advised to keep reptiles away from food and drinks.
Remember that even healthy and clean appearing reptiles with no signs of illness may be carriers of salmonella bacteria.
Signs and symptoms associated with salmonella bacteria infection include diarrhea, fever, and abdominal cramps 12 to 72 hours after infection. The illness may last 4 to 7 days before recovery with no treatment. Severe cases may result in the infection spreading to the bloodstream, which would require prompt treatment with antibiotics.
[Source: CDC]
Join Our Weekly Newsletter

Sign up for a free weekly newsletter covering things to do, hottest local headlines, and everything Long Island! Read more here or enter your email to signup.