Crime Report: Nassau Man Arrested for DWAI, Hitting Six Cars; Police Make Arrest in December Murder
A West Hempstead man was arrested after hitting six cars; a man has been arrested for the murder of Francisco Pirir.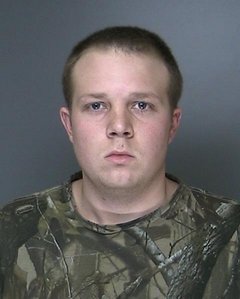 Nassau Man Arrested for DWAI, Hitting Six Cars
A West Hempstead man was arrested on Saturday after hitting six different cars while allegedly driving under the influence of drugs. Police say that Leonard Dunne was taken into custody at 5:40 p.m.

Dunne, 47 of Pauley Drive in West Hempstead, was driving a 2001 Dodge Dakota. Police had received numerous 911 calls that Dunne had been involved in numerous accidents with parked cars and failed to stop and report the incidents. He was also involved in an accident with a moving vehicle at Hempstead Turnpike in Franklin Square.

Dunne hit several more vehicles while driving southbound on Nassau Boulevard. He then drove on to the front lawn of a residence near Nassau Boulevard and Roosevelt Avenue. Dunne was apprehended by police after they determined that he was under the influence. He was then transported to a local hospital, where he was treated for a broken nose a facial lacerations.

Dunne was the only occupant of the vehicle, and was the only person admitted to a hospital following the incident.

The defendant will be arraigned as soon as he is medically cleared. He is facing charges of Criminal Possession of a Controlled Substance 7th Degree, Driving While Ability Impaired Drugs, two counts of Leaving the Scene of an Incident Without Reporting, Unlicensed Operation of a Motor Vehicle, Uninspected Motor Vehicle, Unregistered Motor Vehicle, and Uninsured Motor Vehicle.

[Source: Nassau County Police Department]

Police Make Arrest in December Murder
Suffolk County Police said that a man has been arrested in connection with a home robbery and murder of Francisco Pirir on December 8, 2013.

Paul Batterson (pictured), 22 of East Moriches, was taken into custody and scheduled for arraignment on Sunday morning in Eastport.

Batterson is being charged with 2nd Degree murder. Police were called to the Eastport home after two masked men broke in, announced a robbery and shot two victims. Resident Francisco Pirir, 45, was killed and another male resident was treated for a gunshot wound to the hand.

The suspects fled the scene following the shooting.

[Source: Suffolk County Police Department]
Join Our Weekly Newsletter

Sign up for a free weekly newsletter covering things to do, hottest local headlines, and everything Long Island! Read more here or enter your email to signup.