Hempstead, NY - December 22nd, 2015 - Nassau County legislator and Public Safety Committee Chairman Dennis Dunne, Town of Hempstead Mayor Wayne Hall and Hempstead Board of Education President Lamont Johnson will join New York Toy Gun Exchange Program founder and philanthropist Jean Shafiroff at a press conference tomorrow, Wednesday, December 23, 2015 at 2:00 pm at Kennedy Memorial Park in Hempstead, NY to announce an exchange of toy guns for other, more appropriate toys in light of recent shooting tragedies that have occurred nationwide. Recently, a 12 year old child was killed in her home by a stray bullet in Hempstead.

Since 1994, there have been 63 shootings linked to toy guns in New York State that resulted in at least eight deaths, according to the Attorney General's office. The Long Island Toy Gun Exchange Program is being sponsored by the Hempstead School District and the toys are being donated by Ms. Shafiroff to stop gun violence - before it starts. Hempstead Village police and other law enforcement officials will be attending the news conference. This is the first program of its kind in the Long Island/New York City metropolitan area. Kids are invited to turn in their water pistols, replica fire arms and other imitation weapons for sporting goods, educational items and safe toys.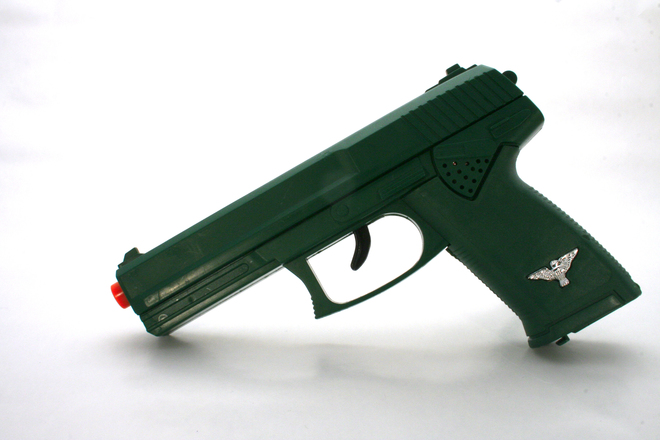 A black pistol toy gun. Photo by OZfuture, via Free Images.
Gun violence in the U.S. has reached epidemic proportions, according to law enforcement officials. More than 30,000 people are killed by firearms each year in this country. Every day, more than thirty people are shot and murdered, one half between the ages of 18 and 35. One third of those killed daily are under the age of twenty. A mass murder - four deaths or more - occurred each day this year in the U.S. including the recent San Bernardino killings where that community continues to suffer from the tragedy of the death of 14 people.

Last week, Disneyland banned toy guns in their theme parks. In Paris, where over 100 people were shot and killed last month, Toys R Us has banned the sale of toy guns in its stores. There have been calls for similar bans in toy stores throughout the United States.