Cheese lovers have a plethora of places to get their fill of artisanal cheeses on Long Island. Some specializes in either locally made cheese, just American cheese (and not the yellow slices you get at the deli), or international cheese. Many offer pairings with wine or beer and you can eat in or take home. Check out the below places for a little cheese adventure or to get some great plates for your next gathering.
Curds & Whey - From our raw, local, organic wildflower honey, to the farmstead cheeses handcrafted on the North Fork of Long Island by local artisans, Curds & Whey offers a wide range of culinary delights that are sure to excite your taste buds. Location: 20 Birch Hill Road, Locust Valley, (516) 399-2800.
The Cheese Store of Cedarhurst - Opened in 1977 they began selling mostly cheese and nuts. As time passed, The Cheese Store became the "go-to" destination for the latest in food trends. Location: 532 Central Ave, Cedarhurst, (516) 295-3099.
Village Cheese Merchant - Independently run business dedicated to providing the finest in cheese and specialty foods. Selection of cheeses represents the best handcrafted, farmstead and organic cheeses produced nationally and from around the world. Location: 28 S Park Ave, Rockville Centre, NY 11570, (516) 705-5020.
Kate's Cheese Company - Carrying a wide assortment of cheese offering sandwiches on artisanal bread, custom cheese boards alongside sweet & savory accoutrements, paired with hand-selected craft beer, local wine or taste at the counter and order however much you need. Location: 19 Front Street, Greenport, (631) 333-2722.
Photo: Stock photo.
Cavaniola's Gourmet Cheese Shop - offers a selection of imported and domestic cheeses, charcuterie, and fine specialty products. Location: 89B Division Street, Sag Harbor, (631) 725-0095.
C'est Cheese - A cheese tavern offering specialized cheese plates and a cheese-focused menu along with craft beers and boutique wines. A cut-to-order cheese shop with over 100 types of artisanal cheese and charcuterie at any given time. Location: 216B Main Street, Port Jefferson, (631) 403-4944.
The Cheese & Spice Market - A local cheese shop, a spice market, and a gourmet food store, all in one. Location: 5768 NY 25A, Suite D, Wading River, (631) 886-1521.
The Cheese Patch - A cheese shop and wine bar also serving craft beer and lite meals. Selecting Long Island and imported wine and craft beer that compliments their cheese. Selections change with the seasons. Location: 20 E Main Street, Patchogue, (631) 438-0393.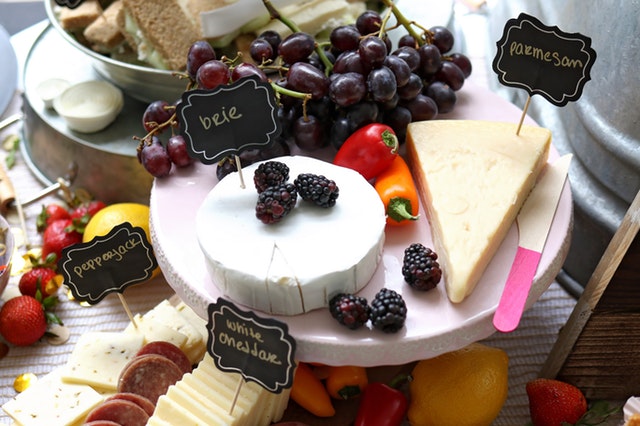 Photo: Stock photo.
Brew Cheese -Part Artisanal Cheese Shop and part Craft Beer Bar. Location: Locations: 127 Main Street, Stony Brook, (631) 675-6060; 40 Woodbine Avenue, Northport, (631) 239-1927.
Babylon Cheese Cellar - Artisanal cheese shop and specialty food boutique with a huge selection of imported and domestic cheese and charcuterie, as well as balsamic glazes, crackers, jams, honey, pates, and even gourmet chocolate. Location: 51 Deer Park Avenue, Babylon, (631) 983-8804.
The Village Cheese Shop - Open year-round, clients and guests enjoy a cultivated variety of beautiful cut-to-order cheeses and platters to delight in within the comforts of their own home. For a special everyday treat, guests can choose from a selection of house-made fondues and cheesemonger-select cheese pairings complete with the perfect glass of wine in the sun-drenched greenhouse. Location: 105 Love Lane, Mattituck, (631) 298-8556.
American Cheese - American Cheese carries only American made, artisanally produced cheeses, featuring lots of cheeses of the North East, they also try to represent all regions around the country with cheeses from the South, the Mid-West, and the West Coast as well. Location: 289 Railroad Avenue, Sayville, (631) 750-5202.