Dix Hills, NY - December 11, 2018 - Winston Preparatory School, an educational institution that serves students with a variety of learning disabilities, is in its 36th year; their Dix Hills location, which first opened its doors in September 2018 is the organization's fifth campus. The five campuses serve over 500 students across the tristate area.
Dix Hills Headmaster Keith Oncale has been with Winston Prep since 1999, when they were originally based out of one location in Manhattan. Even at that time, he noted, they had numerous students who would commute in from Long Island to attend their city-based campus. As this situation went on for years, the decision was eventually made to open up a location on Long Island in order to better serve the region's population.
In addition to Dix Hills, Winston prep has two campuses in Manhattan, one in Connecticut, and one in New Jersey.
Winston Prep serves students from 3rd to 12th grade; Oncale noted that is a very individualized and responsive program designed from the ground up to assist students with learning disabilities.
"Specifically, we serve students with language-based disabilities such as dyslexia. We also serve students with non-verbal learning disabilities, such as students that typically struggle with comprehension," he said. "In other words, one type of student could read an entire page of text perfectly and struggle with differentiating the main idea from the supporting detail, or understanding the subtleties of the text. In contrast, students with dyslexia could struggle with decoding the words on a page, but could comprehend the material on a very sophisticated level."
A third group of students that Winston Prep caters to falls into a category that Oncale refers to as "executive functioning issues."
"Executive Functioning includes skills such as time management, sequencing, how to get started on a task, how to collect your materials, those kind of things," he said. "At Winston prep, we explicitly teach those skills. It's integrated into our program, so a student isn't just expected to know how to study for a test or take notes during a lecture…that is explicitly taught to them and practiced and modeled by our instructors."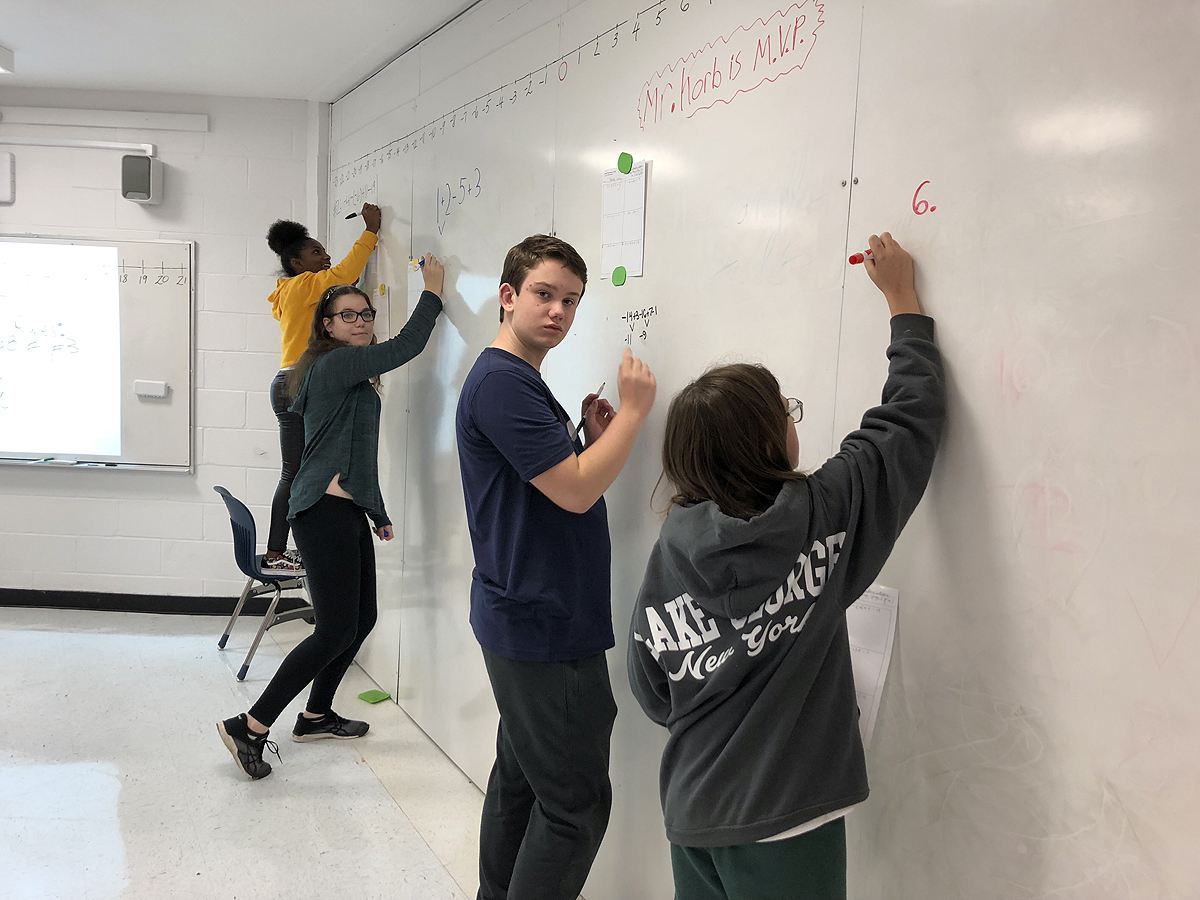 Math class. Photo Credit: Winston Preparatory School
Another aspect of Winston Prep that makes it very unique in terms of being an educational institution is the fact that students are grouped with fellow students who have the same learning profile that they have. This way, Oncale said, a child will travel throughout the day with people who have the same strengths and weaknesses, allowing instructors to focus on those specific issues and more effectively help their students to overcome them.
"In a traditional setting, you are grouped by your age...at Winston Prep, you're grouped with people who have been diagnosed with similar learning issues, and therefore the teachers can teach everyone in a homogeneous way," he said. "In a traditional setting you may have 30 kids in a class, who all learn differently. Here, we have no more than 12 students in a class, who all learn in similar ways."
In addition to the benefits to learning, Keith said, this particular approach also prevents any one student from feeling ostracized or singled out in any way by their peers; in a day and age where bullying is a major problem in many schools, this serves as an effective means of circumventing that issue and creating a sense of camaraderie and empowerment.
Art class. Photo Credit: Winston Preparatory School
Winston Prep
boasts an extraordinary success rate, with 90 percent of their students graduating and going on to college, Oncale noted.
"Because our students are college-bound, our curriculum is not watered down. So we take the opportunity to teach the child what they need to be taught in that moment," he said. "We really take the time to constantly evaluate and analyze where every student is and meet them where they are, and remediate the skills that need to be targeted. We don't move on with the lesson until everyone has an understanding of it, unlike traditional schools where a student may receive a failing grade but the rest of the class moves on."
In addition, every student meets every day with a learning specialist for what is known as the "Focus Program." Here, their needs are specifically addressed in a one-on-one environment to ensure that a student is not lacking or falling behind in any given area of their educational or personal development.
Winston Prep's Dix Hills location currently has 15 students, made up of children from the 4th through 10th grade; however, Oncale noted that number is anticipated to grow significantly via financial aid and admissions programs.
Students working outside. Photo Credit: Winston Preparatory School
The school also has a summer session to help children catch up on areas where they may be lacking, and this session is even open to non-Winston Prep students, Oncale said. In addition, the school also features a wide array of after-school activities to ensure solid overall development of the students in their care.
"We have a Spanish club, we have chess, art classes, a cooking class, a variety of sports, and Theater Arts," he said. "We think it's very important to understand that students don't just want to learn in the classroom. Project and experience-based learning is really important, because you may have been working on something in a classroom in the same way for a very long time and never really understood it. But if I can take you out of the classroom and teach you while we're playing a chess game or playing basketball, suddenly it makes sense. Then when you get back to the classroom you could use that skill that you acquired somewhere else."
Winston Prep of Dix Hills is located on a large, beautiful campus located at 30 Deforest Road; the facility was previously DeForest Elementary School, and features a full-size gym, grass playing fields, art rooms, and state-of-the-art classrooms with large windows offering lovely views of a nearby park.
Gym class. Photo Credit: Winston Preparatory School
Oncale noted that his career as an educator has been a uniquely rewarding and wonderful experience, and that he and his staff at Winston Preparatory School are a group of dedicated, highly-qualified educators who are passionate about helping children overcome their disabilities in an effort to make them successful, lifelong learners. He's even had students of his own come to an understanding of themselves as learners and actually go on to become teachers themselves, which Oncale said is the most rewarding thing anyone can ever do with their lives.
"I really believe that learning happens all the time, everywhere. Every moment is a learning opportunity, and you have to be the kind of teacher that is responsive and aware enough that you are always in the moment," he said. "I'm not following a book that someone gave me; I'm doing the best for my students in the moment. So as a teacher I have to have a huge knowledge base, I have to be very diagnostic and deeply understand my students, and I have to be in the moment, every moment. That takes a very special kind of teacher, and those are the kind of teachers we have at Winston Prep. We're a family here, and we all want our students to succeed."
* Winston Prep is not associated with the Half Hollow School District.