A rail trail from Port Jefferson to Wading River has finally broke ground after years in the making. Billed as Long Island's version of New York City's High Line, the 10-mile trail will be built along an abandoned railway right of way that is currently owned by PSEG Long Island.
The trail will not be elevated like the High Line but renderings show it as being bordered by natural vegetation. It will also feature information kiosks at the eatern and western terminuses of the pathway. The trail is expected to be completed in the fall of 2021.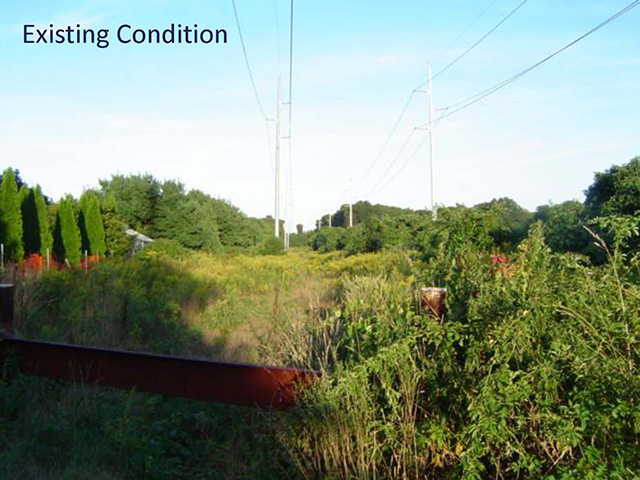 Existing conditipon of the trail. Photo provided by Suffolk County Executive Steve Bellone's Office. (Used with permission.)
Last year, Suffolk County Executive Steve Bellone signed legislation that secured the final portion of funding needed to begin construction.
Reports say that the project is being funded by the Federal Government to the tune of $9 million. The County contributed $500,000 toward the total cost.
"After decades of anticipation, we are finally moving forward on a project that will transform an abandoned railway and turn it into a recreational destination for residents and tourists to explore and enjoy," said Bellone.
The Rail Trail is part of a comprehensive plan envisioned by the County of a connected network of hiking and biking trails involving more than 70 miles in buffered bike lanes, 800 miles in bike lanes and signed bike routes, and 150 miles in potential shared use paths similar to the North Shore Rail Trail.
The plan is expected to be ready for presentation by early 2020 and will map out the existing hiking and biking network. It will identify the gaps in the current network and then present a plan to prioritize and build out those gaps.