Things might be slightly different this year but that's not going to stop Long Islanders from enjoying the holiday season in the least. Below we gathered some great events happening across the Island. Click the links for more information.
Smith Point Light Show - Drive along the 1.5 mile trail at Smith Point County Park Campgrounds filled with dazzling holiday light displays. Enjoy new surprises (like new designs from the Girl Scouts) and some of your old favorites. Proceeds benefit Girl Scout programs for girls and families across Suffolk County. Dates: December 1, 2020 - December 30, 2020. Location:Smith Point County Park, 1 William Floyd Parkway, Shirley.
Riverhead Holiday Light Show - One of the largest drive-through light shows in Suffolk County. Featuring dozens of dazzling displays to delight the entire family! Tickets can be bought online through the website or at the door. Dates: The show is open select dates November 19 - December 30, 2020. Location: Long Island Sports Park, 149 Edwards Avenue, Calverton, (631) 210-6711.
Photo: Riverhead Holiday Light Show webpage.
The Most Wonderful Time of the Year Live from Adelphi - Celebrate the holidays with Broadway and cabaret stars LIVE as part of the Live From Adelphi Concert Series. Performed live on the Westermann Stage of the Adelphi PAC Concert Hall, these one-time performances bring talented Broadway and cabaret singers directly to your home. Date: Sunday, December 20, 2020. Location: Virtual.
2nd Annual Herbal & Handmade Holiday Showcase - DIY herbal and handmade gift demonstrations. Local artisan-made herbal products and gifts. Support local small businesses and farms. Free Admission. Date: Saturday, November 28, 2020, 11am - 3pm. Location: Herricks Herbs & Heirlooms Organic Nursery, 81 Herricks Lane, Jamesport.
Photo: Shutterstock.
Carriage House Holiday Shop & Designer Tree Auction - The Carriage House Holiday Shop will be filled with those great treasures you could find all summer in the Thrift Shop plus lots of extra special items. In addition to the amazing collection of vintage jewelry, handbags and jazzy clothes, there will be ornaments, both new and vintage, great stocking stuffers for children, books about Southampton, and items by local artisans. As part of the Carriage House Holiday Shop there will also be the 2nd Annual Designer Tree Auction. Martha Stewart and many well-known designers are using their considerable talents to create tabletop holiday trees to benefit the Museum's free education programs. Date: Friday, November 27 - Saturday, November 28, 10am - 4pm. Location: Rogers Mansion, 17 Meeting House Lane, Southampton, (631)283-2494.
Photo: Shutterstock.
Spanky's Family Light Show! Musical Synced Christmas Lights! Benefits Make-A-Wish® Metro New York - Traditional Christmas light show fully synchronized to music, designed and built by an 18-year-old to help benefit the mission of Make-A-Wish Metro New York. During the pandemic, Make-A-Wish® Metro New York continues to grant wishes and their need is greater now than ever before. Life-changing wishes for virtual shopping sprees, college tuition, room makeovers, and more are safely being granted during this time. You can donate here:
http://site.wish.org/goto/spankyslightshow. Date: December 1, 2020 -January 1, 2021 (daily), 4:30-10pm. Location: 62 Crescent Street, Hicksville.
Port Jefferson Station Drive-Thru Santa Event - Santa will be visiting the Port Jefferson Station/Terryville Chamber Train Car and will be sitting on the Terryville Fire Department Antique Engine to collect his letters in person. Photo ops, Candy Canes, Food Drive for St Gerard's Food Pantry and a Toy Drive for the Town of Brookhaven Interface will all be at the event. Enjoy some Holiday lights while you wait provided by local businesses and community groups. Date: Saturday, December 5, 2020. Location: Port Jeff Station/Terryville Chamber Train Car Park
1003 Rt 112, Port Jefferson Station.
Photo: Shutterstock.
'Cruise Thru Holiday Toy Drive' at John Burns Park - In partnership with the United States Marine Corps, the Town of Oyster Bay will host a first-of-its-kind 'Cruise Thru Holiday Toy Drive' at John Burns Park in Massapequa on Saturday, December 5th from 9am to 2pm (rain date for the event is Sunday, December 6th). In addition to the cruise thru holiday toy drive, collection boxes will also be located at multiple locations throughout the Town, beginning November 13th and ending December 14th. These unprecedented efforts will help collect new, unwrapped toys that will be used as gifts for needy children throughout the community. Date: Saturday, December 5, 2020, 9am-2pm. Location: John J Burns Park, 4990 Merrick Road, Massapequa Park.
Ginger Bells at Adventureland - Decorate your gingerbread mansion and receive a hot meal. What your Ginger Bell ticket includes: Your very own gingerbread mansion to decorate (per person), Chicken tenders with French fries and a soft drink (per person), four ride tickets (per person) to be used on any ride of your choice, includes: Christmas Carousel, Holiday Train, NYC Race , and/or Helicopters, meet & greet with a socially distant family photo with Santa (you can receive a digital photo on Facebook post event), and many more holiday surprises. Date: Every Saturday through December 19, 10:30am - 4:30pm. Location: Adventureland Amusement Park, 2245 Broad Hollow Road, Farmingdale.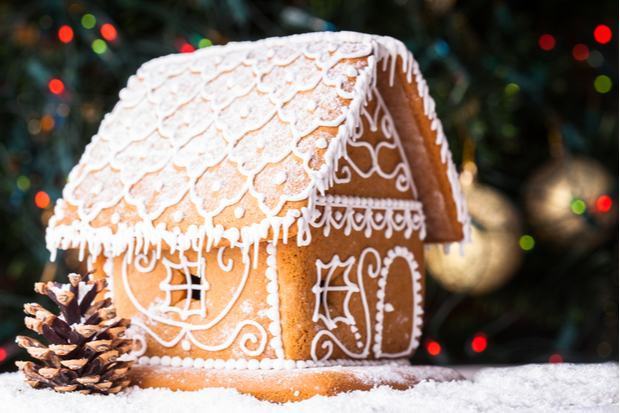 Photo: Shutterstock.
Holiday Tree Display/Competition in Stony Brook Village - Beautiful trees decorated for the holiday season will be on display throughout Stony Brook Village. Whether you are interested in joining in the competition and decorating a tree , or simply want to stroll around the village and enjoy the creations of your fellow Long Islanders, the event is perfect for celebrating the holidays with friends and family. Date: December 6 - January 4. Location: Stony Brook Village, Stony Brook.
Brunch with Santa at Desmond's - Social distance with Santa, while enjoying a hearty and delightful brunch. Some featured items include: Little Elf Kids' Buffet with scrambled eggs, chicken fingers and more, an Omelet Station and Carving Station, Mrs. Claus' Brunch, Santa's Salad Station and Holiday Dessert Table. Date: Every Sunday through December 20, 10am - 3pm. Location: Desmond's Restaurant at East Wind, 5720 Route 25A, Wading River, (631) 846-2335.