Plainview, NY - October 11, 2018 - For Mick Rock, the world-renowned photography superstar responsible for capturing some of the most iconic images ever in the music world for decades on end, the key to success remains holding a healthy respect for the past while evolving with the times to make the best of the present as well.
Carving out an amazing legacy for himself while working with some of the biggest names in music scene – including David Bowie, The Who, Queen, Lou Reed, Iggy Pop, The Ramones, and much more – Mick Rock, British but currently calling New York home, will be a part of an exciting gallery show dedicated to his work right here on Long Island this month.
On October 20 and 21, The Jewelry Studio of Plainview will be hosting The Mick Rock Iconic Gallery Show, an event featuring a retrospective of the artist's revered work; in addition, Rock himself will be in attendance both days, holding exclusive lectures, selling reproductions of some of his most well-known photographs, and signing merchandise for fans and admirers.
Mick Rock. Photo Credit: Mick Rock
However comprehensive this event may seem at first glance, there's a great deal more to The Mick Rock Iconic Gallery Show than initially meets the eye. An aspect that makes the occasion especially unique is a collaboration between Rock and The Jewelry Studio owner Robert Pepkin, a talented designer who has actually incorporated Rock's work into a limited edition line of wearable artwork that will also be on sale during the October 20-21 event.
"I do exhibitions all the time all over the world, but this one is unusual because of the jewelry connection. I was recently introduced to a guy named Rob Pepkin, who does beautiful jewelry, and he had wanted to meet me because he wanted to use some of my images to make jewelry out of them," Rock said. "So we had a meeting, and we decided the best way to go about this was to have a joint exhibition. And since our meeting he's already worked up quite a few pieces, between now and the 20th he'll be cooking up even more."
Rock noted that Pepkin's jewelry will feature images of world famous musicians captured by Rock's lens, including Freddie Mercury, Deborah Harry, David Bowie, Mick Jagger, Joan Jett, and many more.
"I've seen his work, and it's absolutely beautiful…it just has the right flavor to it. It keeps the rock and roll flavor of the images that I took," he said. "Rob is creating all kinds of different chains and leather pieces and all sorts of varieties of things that he's incorporating my imagery into. He's even laser-etched some of my work on to sterling silver, and they're really beautiful pieces."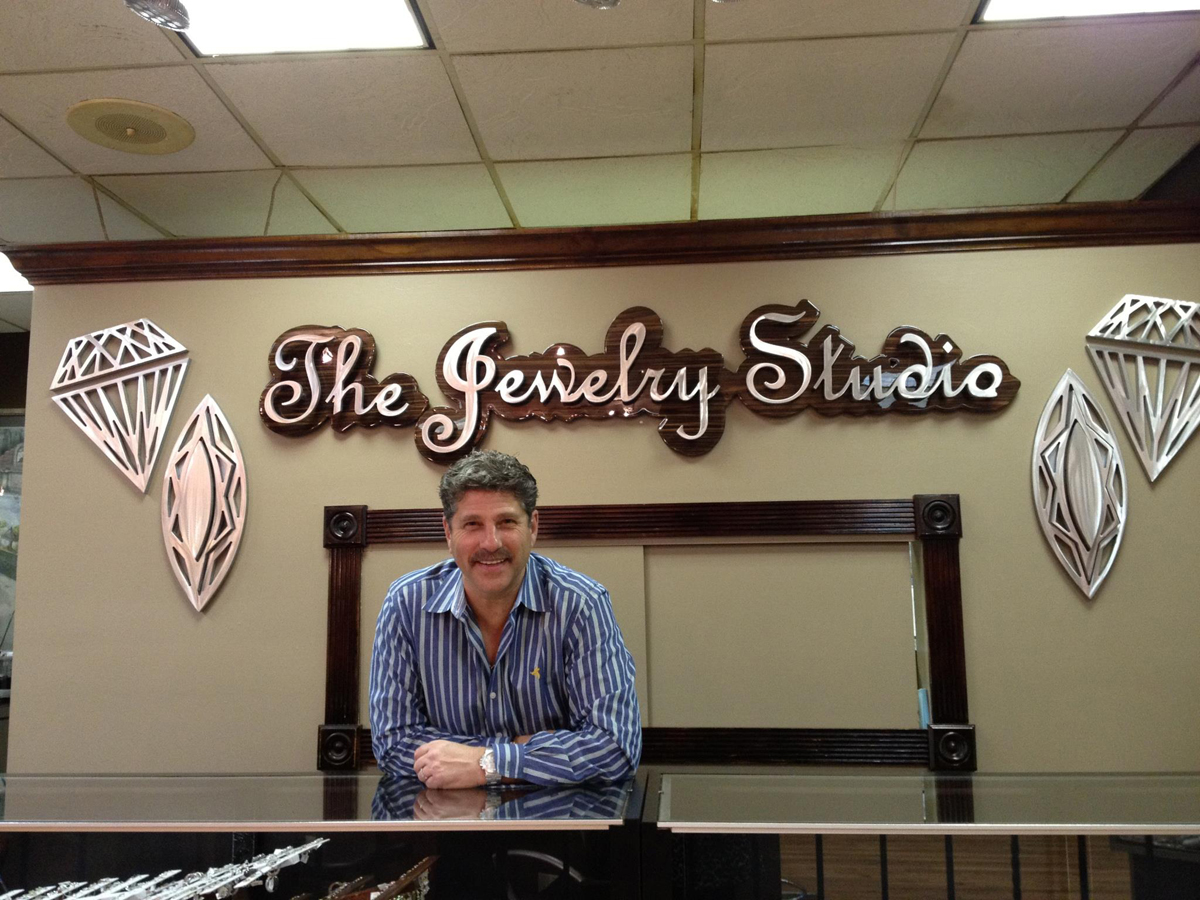 The Jewelry Studio owner Robert Pepkin. Photo Credit: The Jewelry Studio
Known as "The Man Who Shot the Seventies," Rock's services have remained in great demand up to this very day, photographing a diverse range of modern popular artists including Snoop Dogg, Lenny Kravitz, Daft Punk, The Flaming Lips, and more.
"This year alone I have a few events in China, Finland, and Australia," he said. "And at the moment I'm also in discussions on three possible books as well, including a graphic novel about me and my rock and roll adventures. We're currently sorting out illustrators at the moment for that."
In addition, a full-length feature documentary was released in 2017 on Rock and his work, entitled Shots. After a successful theatrical run, the film can now be viewed on home video streaming services such as Netflix and iTunes.
Despite spending decades behind the lens and being responsible for some of the most well-known images and album covers in music history, Rock says that he's in love with the art of photography now more than ever, and relishes that use the fact that he's able to take his career into the new millennium and touch a whole new generation of fans.
"It's a different time as far as music goes, and I accept that it is different...but I love photography, I love the action, I love the immediacy of it," he said. "I have no nostalgia for the past...I deal with it often in my exhibitions and my books, but at the same time I'm always looking forward to the new next new challenge and artistic endeavor."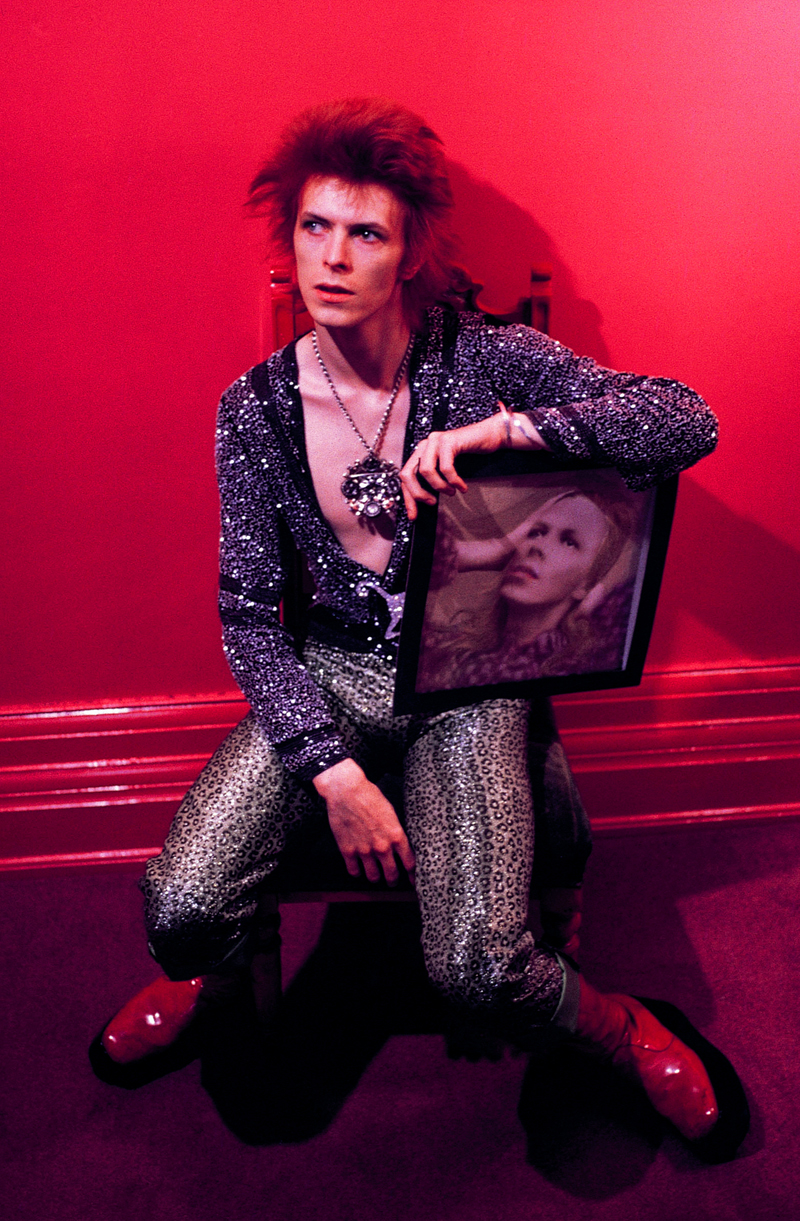 Mick Rock photo of rock star David Bowie. Photo Credit: Mick Rock
Speaking of nostalgia, however, attendees of The Mick Rock Iconic Gallery Show on October 20-21 will be treated to an exclusive lecture each day conducted Rock himself, where he will spin tales about some of his most well-known photographs and backstage stories.
"I guess you could call it a lecture...I never know what to call these things. It's more of a chat, really. What I'll do is project a bunch of images and talk about them, and then I'll do a Q&A session. We'll be doing this in a location right around the corner from the gallery," he said. "During this chat, I'm sure I'll have to talk about people like Queen, David Bowie and Deborah Harry...I think people are going to want to see and hear about the more familiar images , and I'll probably be bringing a lot more than I'll have time to talk about. I'll have fun... I really enjoy these things."
The Mick Rock Iconic Gallery Show will be held Saturday, October 20th (7 p.m. lecture, showing 8-10PM) through Sunday, October 21st (2 p.m. lecture, showing 3-5PM) at The Jewelry Studio, located at 1107 Old Country Road in Plainview, NY.