The decomposed carcass of a whale was reported floating about four miles south of Fire Island Inlet on Monday. By the time officials came up with a recovery plan a day later, the dead right whale had drifted to about five miles off of Jones Beach. Through a multi-agency effort the whale was towed to shore at Jones Beach State Park.
The National Oceanic and Atmospheric Administration (NOAA) outlined the efforts on its website.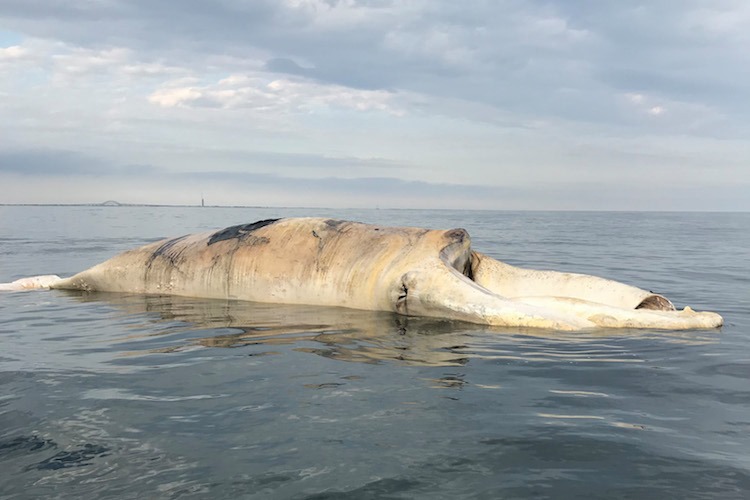 Described by the agency as a ""male, approximately 45 feet long," a necropsy team worked to identify the cause of death on Wednesday. Once completed the team buried the whale.
"Scientists at the Center for Coastal Studies and New England Aquarium have identified this whale as Snake Eyes, #1226," NOAA reported. "He was a male, approximately 40 years old. Snake Eyes was last seen entangled in the Gulf of St. Lawrence on August 6, 2019, after being seen gear-free there on July 16. This is his first sighting since the entanglement."
The Atlantic Marine Conservation Society (AMSEAS) helped to conduct the necropsy. In a statement the organization expressed its sadness about the loss of another of the giant mammals.
"It is sad news to lose one of these endangered species with only about 400 remaining, of which only about 95 are breeding females," the statement said.
The cause of death is not available at this time.
To report strandings of marine wildlife, call the NYS Stranding Hotline at (631) 369-9829. If you see a live whale of any species, keep a distance and share photos, videos, location info, and more by emailing sightings@amseas.org.