One of the business world's premiere events is set to make it's east-coast debut at the end of 2016- Success Hub, a platform created by Launchpad CEO Andrew Hazen to "inspire, educate, and motivate" entrepreneurs will present Secret Knock, a one-night gathering of some of the business world's top names who will offer an unprecedented opportunity to attendees to learn from them the pathways to success.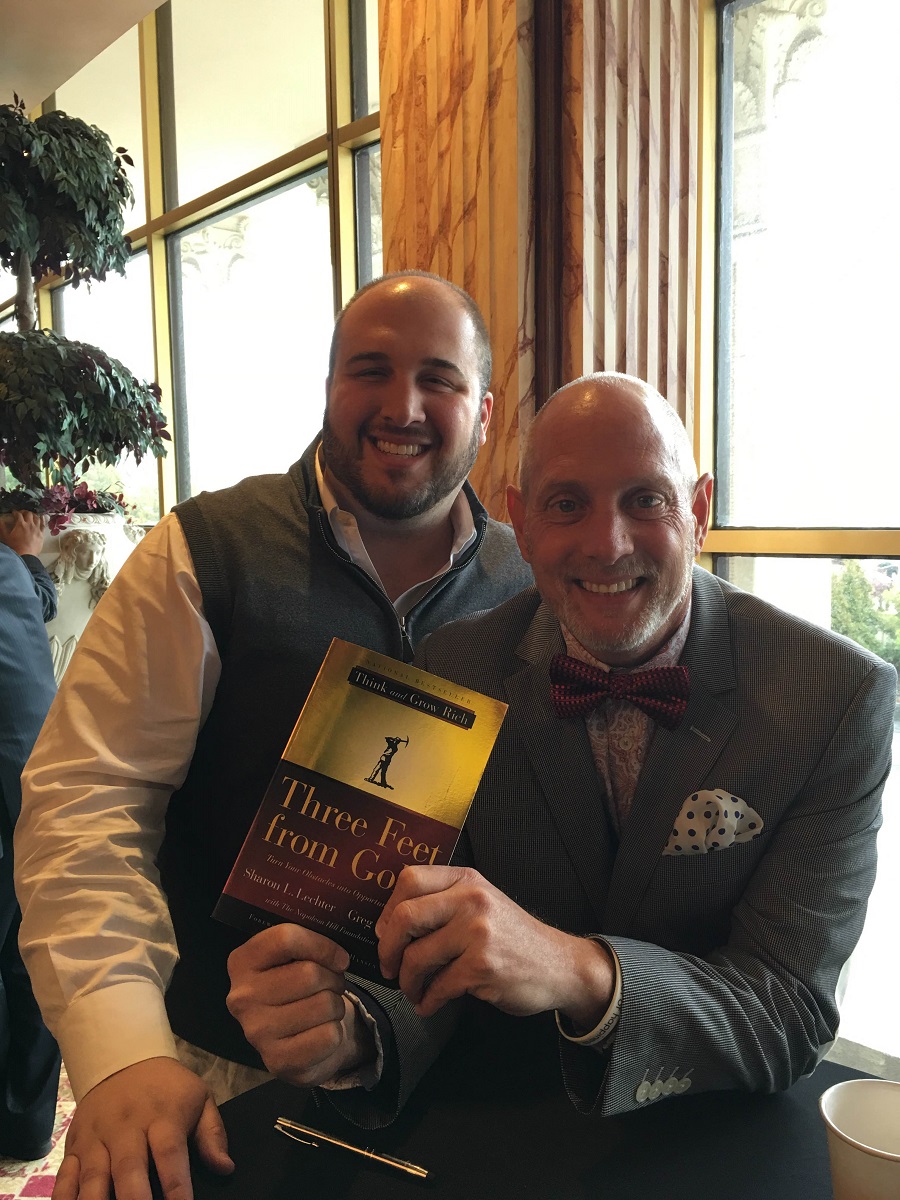 Michael Aharoni with Greg S. Reid.
Created by Greg S. Reid, ambassador to the Napoleon Hill Foundation, Secret Knock touts guest speakers such as Frank Shankwitz, founder of the Make-A-Wish Foundation, Point-of-sale pioneer Ron Klein, the inventor of the credit card magnetic strip, and many more. All of these industry giants will be available up-close and personal to impart their wisdom to veteran professionals and budding start-ups alike at the event's November 9 show, slated to be held at LaunchPad LI in Westbury.
Andrew Hazen notes that his Success Hub initiative, a recent offshoot of his existing Launchpad brand, was the perfect platform to bring Secret Knock to Long Island, after having the event brought to his attention by business associate and realtor Michael Aharoni.

Michael Aharoni with Frank Shankwitz
"I've owned the name 'Success Hub' for quite a few years, and I wasn't sure what I was going to do with it, what vision I had for it," Hazen said. "Michael and I had been working on Instagram with some startups in the area, and he approached me with this idea regarding bringing Secret Knock to Long Island. I figured it would be a great opportunity, especially with the energy and inspiration that it brings. I thought it'd be the perfect thing to do."
Michael Aharoni is the Broker/Owner of Long Island-based Magnificent Homes, as well as Sell To A Veteran, a company that focuses on selling homes to U.S. Vets. He said that he first attended one of Greg S. Reid's Secret Knock events in California, and was instantly taken with what he had experienced.

Michael Aharoni with Ron Klein.
"Greg S. Reid is the number four rated speaker on the Forbes list of speakers… he did his half-hour motivational pitch based on based on his book called Three Feet From Gold any brought other big people, such as the founder of the Make-A-Wish Foundation, the founder of Ugg Boots, and a four-time Olympian," he said. "He brought these people together to tell their stories, to explain how they got to where they are, and it's basically a very interactive, one-on-one sit-down, where you basically learn from these people and become motivated to achieve your own success. I took the idea and I approached Andrew, and I told him that I wanted to bring Secret Knock here to Long Island…I think there's a need for it after researching the market, and I spoke to Greg Reid, and he agreed."
"When Michael first told me about it, I literally went right to Amazon and ordered Three Feet From Gold, and I read the book and probably 3 or 4 days," Hazen said. "It's very inspiring, and I knew right then and there that we needed Secret Knock here on the east coast."

Michael Aharoni, owner of Long Island-based Magnificent Homes
Hazen has a long history helping local the little guy succeed in business throughout Long Island and beyond.
"I practiced law for about two years, and then started an internet marketing company in 1998, I was very blessed and fortunate to grow that and was able to sell it twice, once to investors and once to a public company," he said. "When I left the company in December of 2011, I decided to create LaunchPad…the notion behind that was that I had helped a lot of big companies and small companies when I had my internet marketing firm, but I had the most personal satisfaction when helping the smaller people, if you will…helping them realize their dreams and goals by launching their own businesses. I figured Launchpad could really focus on that."
In addition to esteemed guests such as the aforementioned Frank Shankwitz and Ron Klein, Hazen noted that they have a few more that there are currently in talks with. Hosted at LaunchPad LI in Westbury on November 9, 2016, Secret Knock runs from 6 p.m. to 10 p.m. and offers an experience unlike any before seen in the New York business field, and at a bargain of a price.

Launchpad CEO Andrew Hazen
"There's a nominal fee, but it's four hours at night with free food and some pretty serious content…I think people who are interested will get their value and then some," he said. "It's basically a one-day event where entrepreneurs can experience an atmosphere unlike any other…you get to sit down with the founder of one of the largest charities in the world and one of the most well known inventors going...we're bringing in these people to really help Long Island and to motivate it's businesses."
Hazen said that he expects the inaugural Secret Knock event to have a huge impact upon the Long Island business community, drawing entrepreneurs from all walks of life. In addition, he said, that Secret Knock is not only slated to become an annual Long Island event, but it's also intended to spawn a series of similar events throughout the east coast of the United States, offering its unique take on motivation and savvy to potentially thousands and thousands of people.
"I think most people will be very pleasantly surprised to learn that these invisible individuals are very approachable... It's not like they're in the front door and out the back door, they will be interacting with the people that are attending," he said. "It doesn't matter if you're the CEO of Cannon or Sleepy's, or if you just starting out of the garage tomorrow…the content is incredible and motivational to all. It's like a rock concert or a magic show because you're getting entertained, but the information you can take away from it can be truly life-changing."