Suffolk County District Court judge Derrick J. Robinson has a background in law that goes back 35 years, and as the newly-elected
Suffolk County Bar Association
(SCBA) president, he notes that his upcoming one-year term will no doubt be challenging, yet extremely rewarding at the same time.
As the first-ever African-American head of the SCBA, Robinson is hoping he can use his historic status to foster a new era of inclusivity in the organization.
"I think it's important to be an example, to show other attorneys in Suffolk County, such as minorities and women, what is possible," he said. "They may feel that the Bar Association is not welcoming to them, but this is an opportunity for me as president to show people that we cast a wide net at the SCBA, and that there's a place for everybody. If you want to participate, the opportunities for growth are tremendous. You can make a difference."
Judge Derrick J. Robinson. Photo Credit: SCBA
Judge Robinson, a 68 year-old Amityville resident, attended undergraduate school at Howard University in Washington D.C. in 1969. This was a period in our nation's history – much like it is now – where there was a great deal of social upheaval across the nation, and the civil rights movement and protests against the Vietnam War were definite influences upon him, he said.
"I was really interested in seeing how I could make a difference in our society," he said. " I thought I could be most effective by working in the system, being a part of the system. I wanted to make an impact, to make a difference. I became involved in social issues, and that's what inspired me to go to law school, and it's been a guiding principle in my career ever since."
After graduating Antioch School of Law in 1978, Robinson initially worked in legal aid before landing a job at the Suffolk County Attorney's Office. During Robinson's tenure at the office he worked a wide variety of cases, ranging from consumer affairs-related issues to cases on behalf of the Department of Health, with the latter forming a very important part of his career, he said.
"I was assigned to enforce Suffolk County sanitary code against restaurants and food service establishments, and I was also fortunate to be assigned to enforce the sanitary code as it affected our groundwater system," he said. "I argued numerous cases and made advancements in the law because those cases set precedents and allowed us to continue the aggressive protecting of our groundwater protection laws."
The Suffolk County Bar Association. Photo Credit: SCBA
Moving up in the hierarchy of the Suffolk County Attorney's Office over the years, Robinson handled a wide array of cases, offering him a very broad range of learning experiences. As time went by, he grew more and more involved in his community – including a successful effort to clean up drug dealing in Amityville – and support grew for Robinson to ascend to the next level of his career and serve on the bench.
While he never set upon a career in law explicitly to become a judge one day, Robinson recounted an opportunity he had in law school to clerk for a Washington D.C. judge, an experience he described as a definite eye opener.
"I liked what I was doing, and I got a really in-depth view of what a judge does and the impact that they can have," he said. "I think that may have planted a seed, but becoming a lawyer takes more than just wanting to be a judge. My primary goal was just to be a good attorney, but if further career ambitions came to fruition, I wanted to be prepared."
Robinson was eventually appointed as a District Court judge in February of 2012 by Suffolk County Executive Steve Bellone, filling an unexpired term for a judge who had moved on. He then campaigned and was successfully elected to a full six-year term in November of that year, and was re-elected once again in 2018.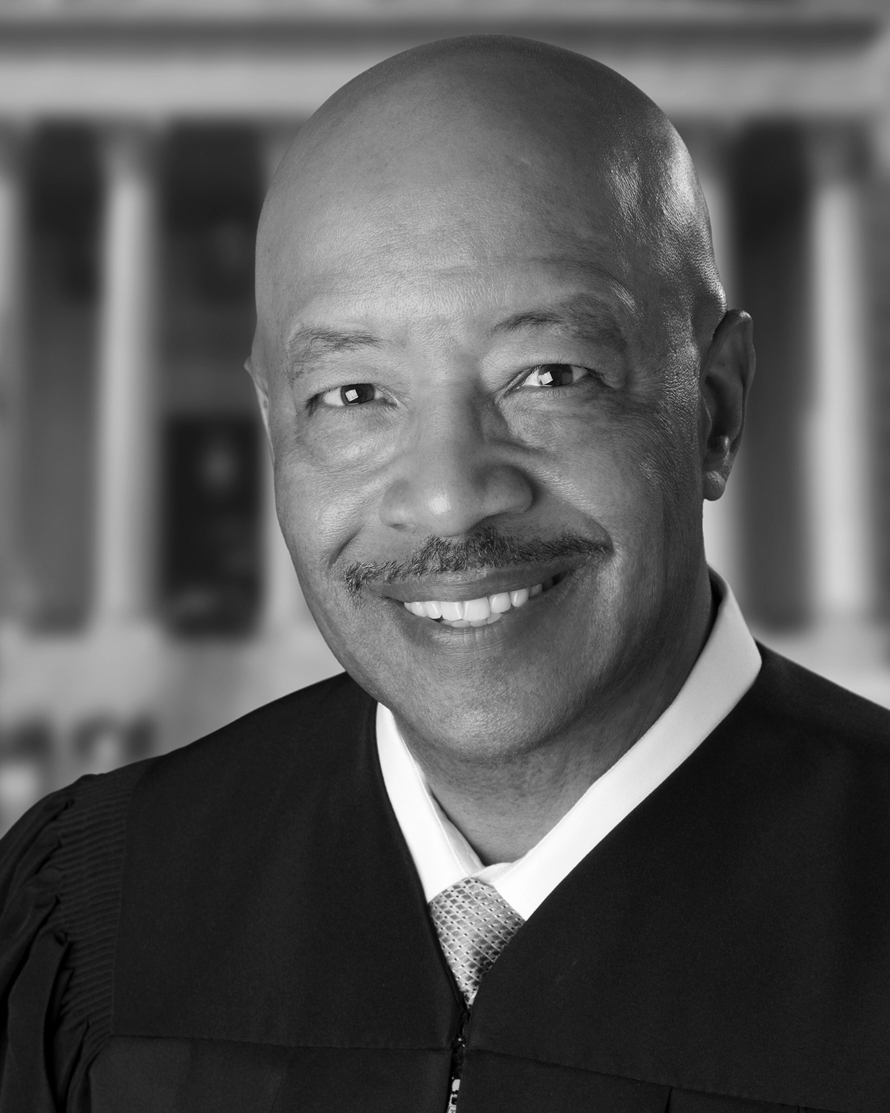 Judge Derrick J. Robinson. Photo Credit: SCBA
Throughout his career Robinson has been active in the SCBA, noting that Bar Association membership is a great opportunity for networking and gaining knowledge and assistance from more experienced attorneys. He quickly rose through the ranks to serve on numerous committees, eventually serving on the Board of Directors and holding vital positions including secretary, treasurer, second vice-president, and first vice-president.
In June 2020, he was installed as the president of the SCBA, making history as the first African-American ever to serve in that position; prior to Robinson, no African-American had even served as an officer in the organization.
SCBA presidents only serve one year and cannot be re-elected; therefore, looking back on the lessons he has learned over the course of his 35 year career, Robinson is adamant in making every second of his term count, especially when it comes to illustrating to others what can be achieved if you put in hard work and effort.
"I've been very fortunate in my career to have good people mentor me and give me advice, and there have been points during my time at the SCBA where I've been the only African-American there, but I never felt unwelcome. My opinions were respected and valued, and that made me confident," he said. "We are on the right track here at the SCBA, but there's room for improvement. We need to make ourselves even more welcoming, and that is one of the things I'm going to do during my year. I'm going to be welcoming minorities, women, and people of all persuasions to become members, get involved, and make a difference."