LI's Adorable Adoptables is a weekly column by Allison Matos, a lifelong Long Island resident who has been advocating animal adoption since 2012. Allison's weekly posts highlight local animals in need of adoption, and cover general animal welfare topics as well.
Who's black and white and adorable all over? It's Lefty! Lefty has quite a unique look with with Lab mix coloring, Border Collie eyes, and a soprano Collie bark all combined with a repertoire of adorable tricks! For a treat, "Lefty" will "sit," "shake" and almost "down", but he insists on only giving his LEFT paw when he "shakes", no matter what. Lefty is just a cool dude who would love to be your new best friend. Head down to Last Hope to meet him or check out his webpage.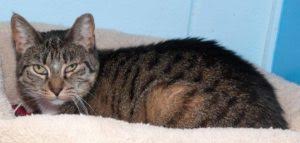 Angie is the gorgeous brown tabby who was rescued from the Frontier Trailer Park in Amityville back in 2014. Angie is such a sweetheart and has thrived with the love and caring she has received from the wonderful volunteers at Last Hope Animal Rescue... so much so that she couldn't be more ready to find her own furever home. Angie was born around March 2014, gets along with other cats and loves to purr up a storm. This weekend, head down to Last Hope and visit Angie in the Free Roamers Room! For more information, check out her webpage.