Port Jefferson, NY – June 14, 2017 – Adjacent to the serene waves gently lapping against the docks and piers of rustic Port Jefferson, art, technology, and a passion for learning came together as the third annual Eastern Long Island Mini Maker Faire was held, drawing thousands of the curious and the creative.
Taking place at the dockside Maritime Explorium Children's Museum, Port Jefferson Village Center, and Harborfront Park, the Mini Maker Faire is a celebration of creativity and innovation, and variations on this amazing event are held all over the world as part of the Mini Maker brand.
Lauren Hubbard, Program Director at the Maritime Explorium and Co-Producer of the Maker Faire. Photo Credit: Chris Boyle
Lauren Hubbard, Program Director at the Maritime Explorium and Co-Producer of the Maker Faire, said that the event featured everything from ecology-related exhibits and hi-tech robotics to scientists with recent breakthroughs and interactive art exhibits…and everything in-between.
"It's about getting people excited about innovation and trying new things…don't be afraid to fail, and if you do, fail forward," she said. "We have tons of robots, we have people who are artists, we have people who are really into Star Wars so they build R2-D2 Droids...the Mini Maker Faire can be about making food, knitting and crocheting...anything that you make with your hands, yourself."
2017 marks the thrid year that Port Jefferson has hosted the Maker Faire. Photo Credit: Chris Boyle
The Maritime Explorium is a hands-on museum geared towards ages 2 through 12, although they do run adult programming as well; Hubbard noted however, that they had a desire to do an event that would appeal to the entire community, and that was where the idea of holding the Maker Faire came from.
Say hello to the Transformer Autobot Bumblebee, an 8 and-a-half foot tall costume worn by
Tom DePetrillo of Extreme Costumes
. Photo Credit: Chris Boyle
The Maker Faire drew approximately 70 different exhibitors from throughout New York State and beyond, and over 3000 attendees. Most of the exhibitors had some sort of hands-on activity at their booth, which Hubbard noted was one of the main requirements they were looking for when it came to inviting a maker to attend the Faire.
A major draw at the Maker Faire this year was the Robotics Playground, which was held in the ice rink behind the Maritime Explorium building. There, participants were able to operate remote controlled robots and have them perform a variety of complex tasks, such as picking up balls and throwing them at targets.
"The Robotics Playground was a bit of a trial this year," Hubbard said. "Based on its success, we're actually considering holding a robotics competition at next year's Maker Faire, but it depends on the availability of makers, if they can come, and what they have got. Every year it's a new experience...70% of the makers this year are new to the event compared to the makers we had last year."
A remote-controlled robot at the Maker Faire's Robotics Playground. Photo Credit: Chris Boyle
A new event to this year's Maker Faire is what Hubbard referred to as the Science Café; numerous scientists from neighboring schools and universities took their time to make themselves available to field questions from the general public on anything and everything related to their respective fields. Did you have a question about air, or how the sun works, or space flight? Chances are there was a scientist ready and waiting to answer your question in great detail.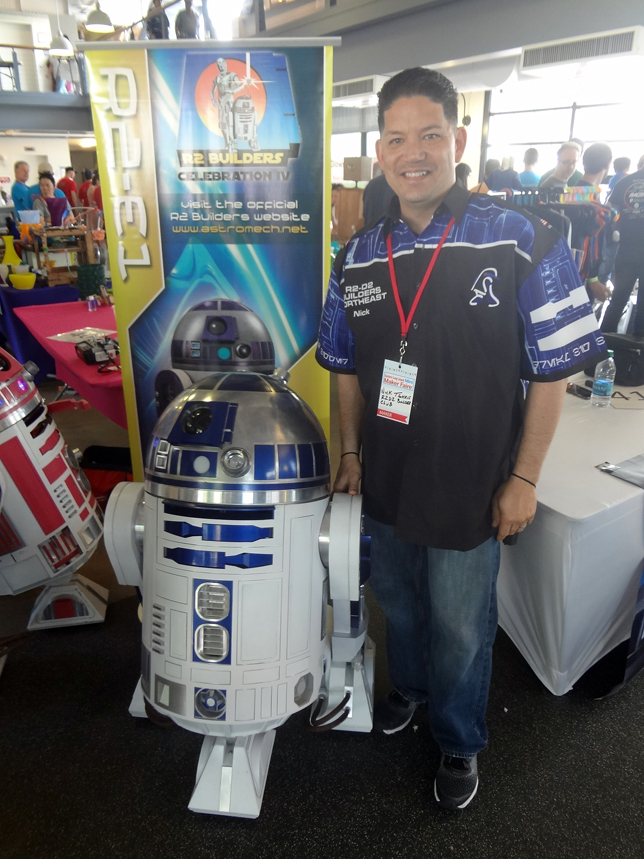 Nick Tsokris of the R2-D2 Builders Club and his little friend. Photo Credit: Chris Boyle
You don't have to be from a galaxy far, far away to appreciate what the R2-D2 Builder's Club has accomplished; a group of inventors and Star Wars fanatics, the organization shares blueprints, schematics, and technical know-how in order to create life-sized, working replicas of everyone's favorite Astromech Droid, R2D2. According to member Nick Tsokris, the R2-D2 Builder's Club is based online and is comprised of a membership of about 3,000 people, four of whom reside on Long Island.
"The club is free to join, and we share the blueprints and parts for building R2-D2," he said. "My R2 took me about two and a half years to build, part-time…he weighs about 180 lbs, and I just bring him to nonprofit and charity events around the local area of New York, New Jersey, and Connecticut. He works by remote control and can do almost everything that the real R2-D2 can do in the movies."
Sandy Schaller of Funtime Studios poses with the explosive artwork she and her daring team have created
. Photo Credit: Chris Boyle
Sandy Schaller of Funtime Studios was displaying a potentially explosive piece of art; quite literally, in fact, although she assured attendees that her propane-powered piece was actually quite safe. Essentially a fire spewing, aquatic-themed tree molded out of steel, Funtime Studios' impressive piece allowed attendees to actually control bursts of flame from this piece of art via a control panel situated a safe distance away.
"With Maker Faires, there's a lot of tech, but one of the things that's also nice is to make art. What's nice about this piece of art is that it's actually a hybrid of fabrication, electronics, microcontrollers, and plumbing...so it's kind of an interesting dovetailing of all these disciplines together to make a piece of art that actually comes to life and is a little different," she said. "It's made of mild steel, and it's fueled with propane that is safely stored in the fuel depot nearby. There's a pilot light that burns off any excess propane, and one of the cool features is that it's interactive...it's not just passive, people can walk up, hit the button, and make fire happen, so that's an interesting feature."
The
Maritime Explorium Children's Museum of Port Jefferson
. Photo Credit: Chris Boyle
One of the attendees of the Maker Faire was certainly more than meets the eye...Tom DePetrillo of Extreme Costumes certainly captured more than his fair share of attention by walking around in an 8-and-a- half foot tall, custom built Bumblebee costume, depicting the brave Autobot warrior from the Transformers film and cartoon franchise.
Tom DePetrillo of Extreme Costumes prepares to don his impressive electronic Bumblebee costume to wow Maker Faire attendees
. Photo Credit: Chris Boyle
DePetrillo noted that this is actually the third Bumblebee costume he's built while refining and improving the design over a number of years, and out of all the costumes that his company creates, Bumblebee is clearly the hands-down favorite at any convention or event that he wears it to. An armored monstrosity complete with stilts, lights, and electronic voice features, the Bumblebee costume was nonetheless fairly simple for him to take on and off; but rest assured, whenever he had it on, there was a line of Transformers fans waiting to take pictures with him at all times.
"This costume is about five years old, and the costume itself weighs about 55 to 65 pounds, based on the load out…sometimes we have more stuff loaded. Lasers, for example, make him weigh more, because of the extra battery packs," he said. "The costume has 232 LED lights and a 30 watt PA system. All told, I've probably used this costume for a combined total of about 2000 hours, and on any given day when I'm wearing him I usually have it on for about three to five hours at a time. He's easily our most popular character."
A 3-D printer on display at the Mini Maker Faire. Photo Credit: Chris Boyle
Overall, the goal of the Mini Maker Faire, according to Lauren Hubbard, is to not only impress attendees with the wonderful works of others, but to entice and inspire them to actually go out and create something themselves. And who knows? They may find themselves as an exhibitor at next year's Maker Faire as well.
"The goal is to get people – kids, their parents – all trying something totally different and new that they've never tried before, and we're hoping that sparks an interest," she said. "That's what happens at these events… you see something and you think, 'that is super cool. I want to know how to do that.' Then you go home, and make your own, or something else new, different, and unique."