Port Jefferson, NY - May 22nd, 2016 - (Mostly) True Things, a storytelling show that features true stories - with a twist - told live, without notes by people from all walks of life, ages and backgrounds will be at The Dolphin Bookshop & Café, 299 Main St., Port Washington, NY on Sunday June 5, 2016 at 6 pm and at The Performing Arts Studio of New York, 224 E. Main St., Port Jefferson, NY on Saturday June 18, 2016 at 7 pm.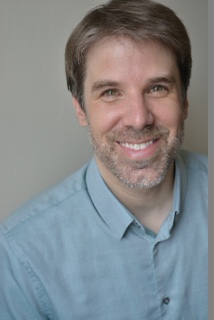 Jamie Cummings. Photo by (mostly) True Things
Both of these shows will bring a stellar line-up of storytellers to the stage, who tell a compelling, captivating and often comedic story from their own life. All the stories except one include carefully-crafted deceptions or "little white lies."

Tracey Segarra in my show. Photo by (mostly) True Things.
The audience has an opportunity to question the storytellers, then vote for the person who told the unvarnished truth. Audience members who choose the correct person get a prize. Tickets are $10 online until 5 pm on the day of the show, available at mostlytruethings.com Tickets are $15 at the door (cash only). Call 631-366-4265 for more information.
The June 5, 2016 performance at Dolphin Bookshop & Café includes Moth Grand Slam winner and NYC storytelling regular Tracey Lynn Segarra, Moth winner Mel Dockery, and Jamie Cummings, actor, writer, director who teachers improvisation at The Pit-NYC and is on 2 Pit-NYC house teams. The June 18, 2016 performance at The Performing Arts Studio will include David Morrissey and abstract artist Alicia R. Peterson.

Joey Novick. Photo by (mostly) True Things.
Host/creator Jude Treder-Wolff is a writer/performer and singer/songwriter who performs regularly in the New York storytelling scene, and has been featured on Talk Therapy, RISK!, and The Prose Of Pie. With composer Wells Hanley she co-wrote all the songs used to set up each stage of the game in (mostly) True Things.