Brooklyn, NY - April 19, 2018 - The UFC came to the Barclays Center in Brooklyn for the first time on April 7th. On the card were two title fights, although both were nearly put into jeopardy due to what you could call 'out-of-the-ordinary' circumstances.
First Tony Ferguson injured himself in a freak accident while doing media for the event the week before the fight.

"I'm told the injury to Tony Ferguson was literally caused by a trip. The freak accident of all freak accidents. He was walking, saw someone he wasn't expecting to see, veered sharply to say hello and tripped"

Brett Okamoto of ESPN reported. Ferguson tore a ligament in his knee; Talk about bad luck.
UFC Celebrates it's 25th Anniversary with it's first event in the Barclays Center in Brooklyn. Photo Credit: Jonathan Smith
Left scrambling to put together a fight for the title against Khabib Nurmagomedov there were multiple people considered. First it was announced that Max Holloway would challenge Khabib for the chance to hold 2 championship belts. His hopes were dashed when the state athletic commission ruled him out due to being "medically unfit". Other hopefuls included Paul Felder and former champ Anthony Pettis, who wanted more compensation than the UFC was willing to give. Finally, Al Iaquinta, the Long Island native who missed out on his chance to compete in the first New York event at UFC 205 was up to the task and the fight was on. He was not able to win the fight, but lasted all 5 championship rounds and valiantly escaped a rear-naked choke. The entire arena was chanting "I-A-Quinta!"
The main event was almost put into jeopardy as well. UFC star Conor McGregor was allegedly filmed throwing a dolly through the window of a van carrying fighters who had just finished a media event. One of those fighters was Rose Namajunas and said she was nearly hit. In the aftermath three fights were cancelled; Michael Chiesa vs. Anthony Pettis, Ray Borg vs. Brandon Moreno, and Artem Lobov vs. Alex Caceres. Michael Chiesa had cuts to his face and was ruled out by NYSAC. Ray Borg had scratches to his cornea. Artem had his fight cancelled due to him being part of the altercation. McGregor turned himself into police and was granted bail of $50,000.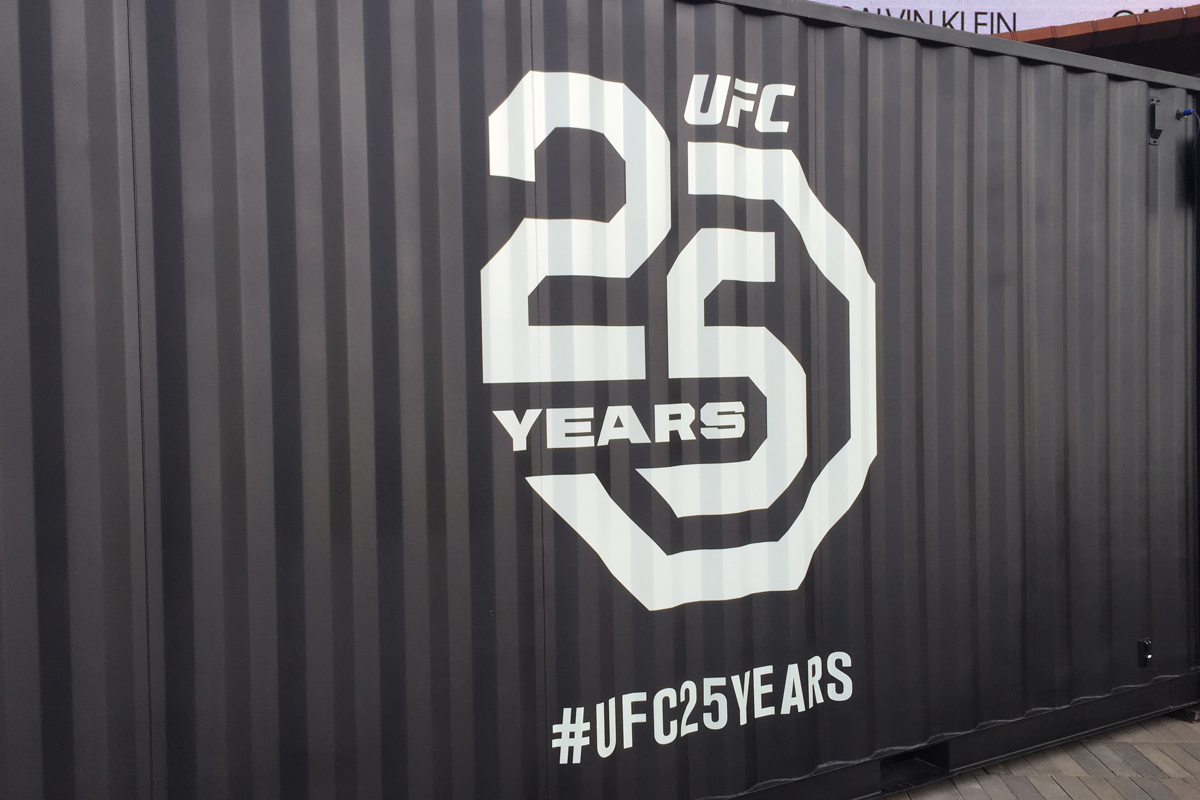 UFC Celebrates it's 25th Anniversary in 2018. Photo Credit:
Jonathan Smith
Fight of the night honors went to Zabit Magomedsharipov and Kyle Bochniak in a 5-round slugfest in which Zabit did most of the slugging and won a unanimous decision. In the main event was the much anticipated rematch between Rose Namajunas and Joanna Jedrzejczyk. After going the distance in a close battle Rose had her hand raised and remained champion in the strawweight division.
The UFC is celebrating 25 years as an organization. Dana White held a 25th anniversary press conference which included fighters who will be competing in this historic year. Among the biggest fights announced will be a rematch between TJ Dillashaw and Cody Garbrandt and Daniel Cormier moving up to heavyweight to battle Stipe Miocic for the title. The UFC also stayed true to their mission of being a global presence with fights announced in Chile for the first time as well as a promise to go to Russia at some point.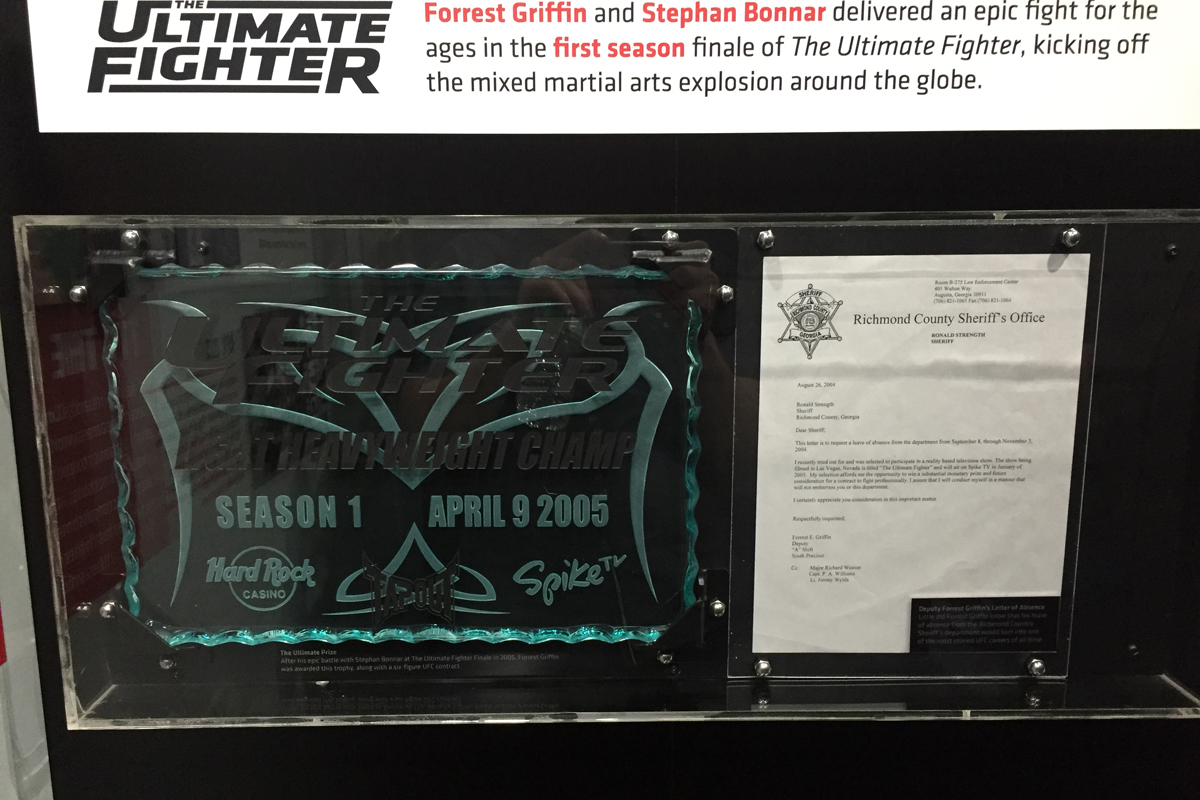 Forest Griffin's letter to the Richmond County Georgia sheriff's department asking for leave to go compete in the Ultimate Fighter season 1
. Photo Credit:
Jonathan Smith
The '25th Anniversary Experience' was located in the Barclays plaza housed inside a shipping container which gave fans the ability to see memorabilia and history from the last quarter-century of the organization. Included inside was the bill legalizing MMA in New York as well as Forest Griffin's letter to the Richmond County Georgia sheriff's department asking for leave to go compete in the Ultimate Fighter season 1. His championship plaque was beside it.
After all was said and done it was another successful and exciting night for the UFC. It has come a long way since the days of Royce Gracie taking on sumo wrestlers. The sport and company have grown tremendously since then and it will be great to see what history is made in the next 25 years.