Emmy Squared
This thick, square Detroit-style slice holds a ton of toppings including mozzarella, Ezzo pepperoni, pickled jalapeños and honey. It sounds a bit indulgent, but the crust is light and crispy, giving it the perfect balance. There's also the Emmy, topped with mozzarella, banana peppers, red onions and ranch dressing—and the famous Le Big Matt burger, made with a double stack of Pat LaFrieda patties.
Destination Dumplings
Whats more queens than authentic dumplings? This Woodside-based spot fills their dough with a pork, chive and scallion combo, topped with soy sauce for a salty finish. There's also a vegetarian option with a tasty edamame stuffing.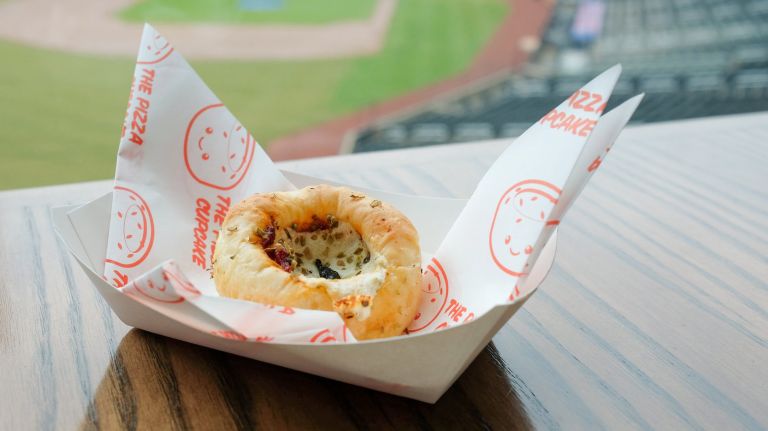 The Pizza Cupcake
This pizza is baked in a cupcake tin, which makes it a perfect bite-size snack while watching the game. It's stuffed with cheese, pepperoni and sauce, which is made with Mutti tomatoes flown in from Italy and provides the perfect sweetness. Italian herbs­­­ are the last of toppings.
Stuf'd
Try a take on a classic deli Reuben sandwich. A massive serving of corned beef is topped with German stone-ground mustard, purple slaw, Swiss cheese and Thousand Island dressing. It's pressed between two pieces of panko-coated bread, giving it the perfect cheese pull.
Dulcinea
When the seventh-inning stretch comes around, grab one of these warm and crunchy fried-dough pastries. Dulcinea's version is dipped with sugar and served with your choice of Nutella, dulce de leche or Boston cream dipping sauces.