New York, NY - March 8th, 2016 - With Daylight Savings Time rapidly approaching, FASNY encourages all New Yorkers to take this opportunity to test their smoke and carbon monoxide alarms and ensure their homes are properly protected against fire. Alarms with removable batteries should be replaced; residents possessing alarms equipped with sealed-in batteries should test the alarms to ensure they are in proper working condition.

According to research by the National Fire Protection Association (NFPA), three of every five home fire deaths occur in homes without working smoke alarms, and the vast majority of smoke alarm failures are due to dead or missing batteries.

At the end of 2015, Governor Andrew Cuomo signed a new law that will require all smoke alarms sold in New York State to be equipped with sealed-in, non-removable batteries that last for at least 10 years.
The law has not yet taken effect, but this is undeniably an important step in improving New York's fire safety. The 10-year alarms require little maintenance, and unlike alarms with removable batteries, are nearly impossible to deactivate.

"The signing of the 10-year smoke alarm bill was critical," said FASNY President Robert McConville. "Far too many people have been killed or injured by fires in homes without working smoke alarms, and firefighters frequently encounter disabled or deactivated alarms when responding to calls.

Smoke alarms with sealed-in batteries will go a long way toward making New York safer and preventing future fire deaths and injuries. Regardless of the type that they own, all New Yorkers should check their smoke alarms to ensure they are in working order. This is the single most important step residents can take in protecting themselves against fire."

FASNY Smoke & CO Detector Tips:
Test detectors at least once a month by using the test button.

If you have an alarm with a removable battery, be sure to check the batteries every six months, and change the batteries every year. If a battery is starting to lose its power, the unit will usually chirp to warn you. Do NOT disable the unit.

Vacuum or blow out any dust that might accumulate in the unitNEVER borrow a battery from a detector to use somewhere else.

NEVER paint a smoke or CO detector.

Install at least one smoke alarm on every floor of your home, including the basement, and in, or near each sleeping area.

Smoke detectors should not be installed near a window because drafts could interfere with their operation.

Families should also develop and practice a home fire escape plan.

Always follow the manufacturer's instructions for testing smoke alarms and replacing the batteries.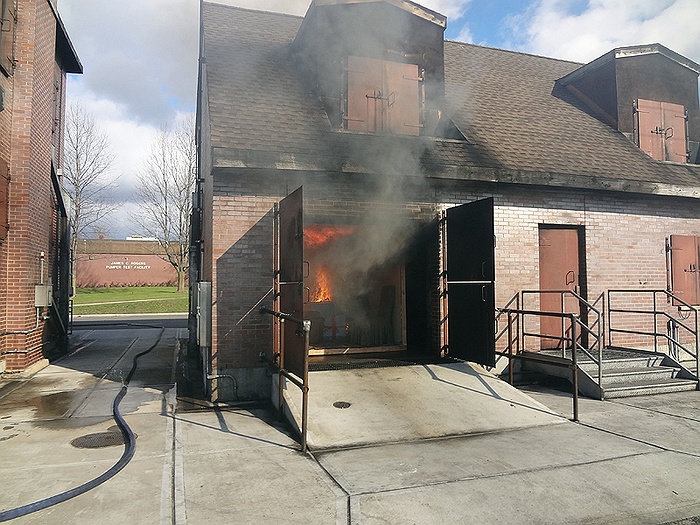 A tree burning demonstration by FASNY & the Nassau County Fire Service Academy in December 2015, highlighting how quickly houses fires can spread throughout a home. Photo by Chris Boyle.
For more information on smoke detectors, carbon monoxide detectors and other information on fire safety and prevention, visit www.fasny.com and www.nfpa.org.

About FASNY
Founded in 1872, the Firemen's Association of the State of New York (FASNY) represents the interests of the more than 90,000 volunteer firefighters and emergency medical personnel in New York State. For more information, visit www.fasny.com.