Karen L. Kirshner of East Meadow was one of three artists honored with an Award of Excellence in Part One of the Art League of Long Island's 64th Annual Members' Exhibition for her painting Red Scene 3, a 24" x24" acrylic on canvas.
Karen is an award-winning original abstract artist who recently had a solo exhibit "Abstract Adventures" featuring 28 paintings at the Bryant Library gallery in Roslyn. In February 2018, she won the Abstract Artist of the Year Award in the national juried competition, Art Comes Alive (ACA). Last year she also won Best in Show in the prestigious National League of American Pen Women's juried biennial art exhibition.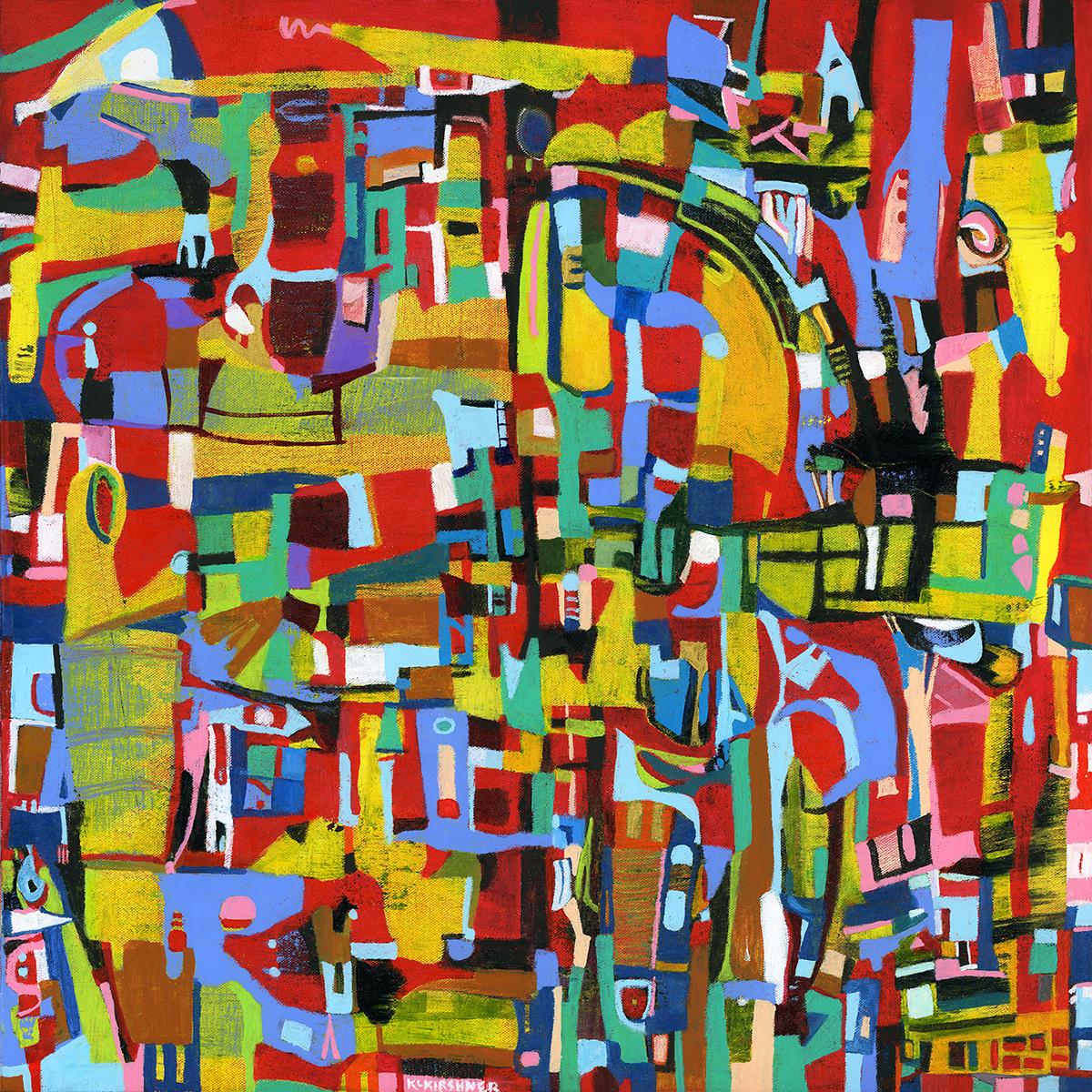 (C) Karen L. Kirshsner, Red Scene 3, 2019, All Rights Reserved
About Red Scene 3
Karen explained that with Red Scene 3 and many of her other works that she does not know what she is going to create until she is in the process of creating it. She said, "I'm working intuitively, and integrating problem-solving and skill into taking risks simultaneously." She said that she is also a writer and a poet and that she integrates what she experiences and sees into the expression in forms, shapes, colors, and lines on the canvas.
"The only thing I do know when I started painting is what color I want to use for the background," Karen said. Red Scene 3 is the third in a series of red paintings, which she said was a challenge. Karen said that even the juror Dan Christoffel noted that red is one of the most difficult colors. "I incorporated colors that usually most artists would not dare to do and it worked."
Artist Karen L. Kirshner of East Meadow
Karen credits her mother for her love of art. Her mother Betty was an artist and an art teacher and had a strong influence on her, even though she didn't realize it when she was younger. Her mother exposed Karen to the world of art, whether it was by bringing her to art museums, letting Karen observe her work, or introducing her to other artists. Through her mother, Karen was immersed in art and was able to develop her own talents, techniques, and style.
Karen lives in the East Meadow home she shared with her mother, whom she cared for before she passed away. Karen paints in the same spot where her mother used to paint. She has a painter's sketch self-portrait of her mother facing her as she paints in the light.
What's next
Karen has been asked to create a 72 inch statement piece and will begin working on that within the next few months. She is also scheduled to have a solo show at b.j. spoke gallery in Huntington in May 2020 and is preparing new work for that show.
Other Art League Awards of Excellence winners
In addition to Karen Kirshner, other Art League Awards of Excellence winners were Jim Graf for "Waiting for the Call, NY Fire Station" acrylic and Phyllis Goodfriend for "Approaching Storm" photograph. Honorable Mentions selected included Russell Carman for "Lunch in an Irish Pub" oil, Elizabeth Fusco for "Hibiscus and Friend" watercolor, and Lori Horowitz for "Bearded" papier-mâché and mixed media.
Exhibition juror Dan Christoffel who selected the award winners will discuss his choices at a Gallery Talk on Thursday, December 19, 2019 at 7:30 p.m. at the Art League of Long Island. The event is free and open to the public.
The Art League of Long Island is a not-for-profit organization dedicated to broad-based visual arts education, providing a forum and showcase for artists of all ages and ability levels.
For more information about Karen Kirshner and her art and upcoming events, visit https://www.karenlkirshner.com/.