Yesterday proved a busy one for techies and smartphone lovers. Not one, but two joint press conferences took place, highlighting a total of five brand new mobile handsets. To kick the morning off, Microsoft and Nokia displayed the flagship Lumia 920 and 820,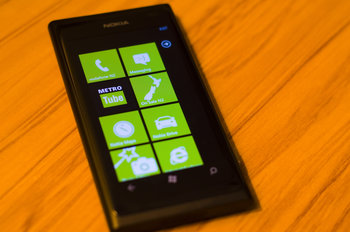 which will be among the first sets to run on the Windows Phone 8 platform. As successors to the 900 and 800 series of Lumia Windows Phone 7 units, the 920 and 820 will continue Nokia's trend of technicolored phone options, adding matching accessories which include speakers, headphones, and wireless charging stations. In addition to running Microsoft's new and improved OS, the 920 will feature a 4.5" HD screen, 1.5 GHz dual core processor, 8.7 MP camera, and 32 GB of internal storage. It will also bear a spring-supported floating "PureView" camera, claimed to take in 5-10 time more light than any other smartphone, rivaling the image quality of standalone SLR digital cameras. The front camera will be further integrated into an augmented reality program called Nokia City Lens, which will overlay information about "restaurants, shops, hotels and more on the surfaces of buildings" when the phone is held in front of them.
The Lumia 820 will be decidedly less feature-rich, with a 4.3" non-HD screen, 8 MP camera, smaller battery, and 8 GB of storage. Evidently this more modest phone will also lack the PureView camera and City Lens AR program, however, it will retain wireless charging capabilities and have a micro SD slot to give owners the option for expanded memory. Though prices were not announced, the 820 will presumably run at a notably lower cost than its more ambitious brother when the two are released later this year.
Not to be outdone, Verizon and Motorola used their afternoon conference to show off three brand new entries in the Droid RAZR line. Running on Google's Android operating system, the RAZR's have been met with tremendous success since they were released earlier this year, due in large part to their slim profile, durable Kevlar and Gorilla Glass-enforced bodies as well as the unmatched battery size of the RAZR MAXX model. As expected, the long-rumored RAZR HD was at last confirmed, with specifications that largely fell in line with expectations. Its 4.7" HD screen will bring a marked visual improvement over its predecessors, while its 1.5 GHz dual core processor will bring speedier performance.
Meeting expectations in equal stride, the more recently rumored RAZR M will fall closely in line with the models this generation will be replacing. Its 4.3" screen will not be HD, however, it will have the same processor as the RAZR HD and, in keeping with Motorola's commitment to slim profiles, the "edge-to-edge" display will leave almost no excess bevel to waste valuable pocket space. Designed with more frugal smartphone users in mind, the M will launch at an attractive $100 price tag for new contracts and renewing Verizon customers.
What stole the show (or shows, if you're less keen on Windows Phone), though, was the almost entirely unexpected announcement of the RAZR HD MAXX. The name may be a mouthful (it's certainly a strain on the "shift" key, if nothing else), but the phone itself won't be weighing anyone down. Combining the specs of the new RAZR HD with the unparalleled battery of the older MAXX, this device will provide topnotch performance with terrific longevity between charges. None of the new RAZR's have an official release date yet, and the two HD's have not been priced, but prospective buyers can take solace in Motorola's promise to bring the newest Android OS, 4.1 Jelly Bean, to all three by year's end.
Ready for a new Android handset? Are you curious about Windows Phone 8? Let us know what you think about the new RAZR and Lumia devices below or on the Long Island Lounge.