Easter Sunday provides the perfect opportunity to enjoy the company of others by gathering with friends and family. Since a delicious meal is always a great way to bring the family together, restaurants across Long Island will be offering delectable brunches complete with a variety of mouthwatering dishes. Whether you're looking for a sit-down meal, or a casual morning complete with an egg hunt, there are plenty of destinations to consider.

Check out the Easter brunch options below and make your reservations today!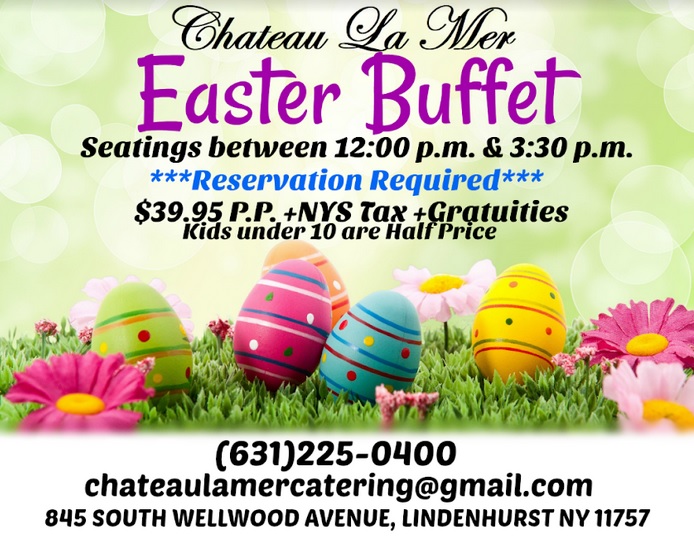 Chateau La Mer's Easter Buffet
845 S. Wellwood Avenue, Lindenhurst, NY 11757
631-225-0400
Sunday, April 1st, 12 PM - 3:30 PM
$39.95 / Half-Price For Kids Under 10
Chateau La Mer will be celebrating Easter Sunday with a delectable buffet for the entire family to enjoy. There will be seatings between 12 PM and 3:30 PM, so be sure to call to make your reservations.


Windows on the Lake's Easter Sunday Brunch & Dinner
235 Lake Shore Road, Lake Ronkonkoma, NY 11779
631-737-0088
Sunday, April 1st at 10:30 AM
Adults $54.95 / Children $24.95 / Free for Under 2
Easter Sunday at Windows on the Lake will feature both brunch and dinner options for families. From the made-to-order omelette station to hot Italian favorites, there will be delicious dishes for all to enjoy.


Easter Brunch at Spuntino Wine Bar & Italian Tapas
1002 Old Country Road, Garden City, NY 11530
973-337-6395
Sunday, April 1st, 11:30 AM - 3 PM
See Event Listing For Pricing
Bring the entire family to Spuntino Wine Bar & Italian Tapas in Garden City for a delicious brunch on Easter Sunday. The restaurant will also be offering its Taste of Tuscany menu, which is a true culinary journey through all that Tuscany has to offer.


Easter Brunch Cruise & Egg Hunt at Sapphire Yacht Charters
11 Richmond Street, Freeport, NY 11520
516-623-5823
Sunday, April 1st, 10 AM - 5 PM
$45 - $70 Per Person
Hop aboard Sapphire Yacht Charters' Sapphire Princess for a morning of family entertainment. There will be an egg hunt for the kids, a delectable brunch, and beautiful views of the South Shore.

Easter Sunday Brunch at The Meadow Club
1147 Route 112, Port Jefferson Station, NY 11776
631-512-1421
Sunday, April 1st, 11 AM - 4 PM
$50 Per Person
Fresh roast salmon, eggplant rollentini, Belgian waffles, and beef teriyaki are among the delicious dishes that can be enjoyed at The Meadow Club's Easter Sunday Brunch, as well as unlimited mimosas and Bloody Marys.

Easter Brunch at The Library Café
274 Main Street, Farmingdale, NY 11735
516-752-7678
Sunday, April 1st, 10 AM - 3 PM
$25 Adults / $10.95 Kids
Fresh fruit, scrambled eggds, Texas-Style French toast, home fries, and crispy bacon will all be served at The Library Cafe in Farmingdale this Easter Sunday. The brunch also includes unlimited champagne, mimosas, soda, coffee, and juice.

Easter Sunday with a VIEW
3 Consuelo Place, Oakdale, NY 11769
631-589-2694
Sunday, April 1st, 11 AM - 9 PM
See Event Listing For Pricing
Combining a scrumptious brunch with stunning views of the Great South Bay, VIEW in Oakdale is a prime destination for a family holiday outing. Available dishes include filet mignon, herb-roasted chicken breast, peking duck tacos, Long Island stuffed clams, and crispy Thai calimari.

Easter Sunday at The Watermill
711 Smithtown Bypass, Smithtown, NY 11787
516-224-8184
Sunday, April 1st, 10:45 AM - 7 PM
$35 - $65 Per Person
The Watermill's expert culinary team will be serving up an enormous buffet that will have tasty items for children and adults alike.

Easter Sunday Grand Buffet at Mirabelle Restaurant
150 Main Street, Stony Brook, NY 11790
631-751-0555
Sunday, April 1st, 11 AM - 6 PM
$52 Adults / $26 Children
Mirabelle Restaurant at Three Village Inn's grand buffet will feature both a brunch station from 11 AM to 2 PM, and delicious dishes for lunch and early dinner. The Easter Bunny will also be making an appearance during the brunch portion, so be sure to take some family photos.

Easter Sunday Brunch at East Wind Long Island
5720 Route 25A, Wading River, NY 11792
631-929-6585
Sunday, April 1st, 10:30 AM - 3:30 PM
See Event Listing For Pricing
East Wind's Grand Ballroom will provide a memorable atmosphere for the venue's Easter brunch. In addition to a full buffet and complimentary mimosa or Bloody Mary, there will be a kids station perfect for the little ones.

Easter Sunday at the Fox Hollow
7725 Jericho Turnpike, Woodbury, NY 11797
516-224-8184
Sunday, April 1st, 11 AM - 6 PM
$34.95 - $64.95 Per Person
Fox Hollow will be offering options for both a buffet or à la carte dinner on Easter Sunday. Mouthwatering dishes include steamed whole salmon, spiral cut candied ham, roast prime NY strip steak, and chicken rollatini.

Besito Easter Sunday Brunch & Dinner
402 New York Avenue, Huntington, NY 11743 (Huntington Location)
399 Montauk Highway, West Islip, NY (West Islip Location)
1516 Old Northern Boulevard, Roslyn, NY 11576 (Roslyn Location)
Sunday, April 1st, 11:30 AM - 10 PM
See Event Listings For Pricing
Whether you're looking to enjoy brunch or dinner, Besito's Long Island locations are ready to accommodate this Easter. The chef's special will be Enchiladas de Borrego, which are braised lamb enchiladas served zarape style.

Easter Egg Hunt & Breakfast at The Southampton Inn
91 Hill Street, Southampton, NY 11968
631-283-6500
Sunday, April 1st, 7 AM - 1 PM
See Event Listing For Pricing
Easter Sunday will begin at 7 AM at The Southampton Inn with a delicious breakfast served from 7 AM - 1 PM. A family-friendly egg hunt will take place at 10 AM and give children a chance to find those elusive eggs that the Easter Bunny hid.