Bernie Sanders is back in the spotlight after an image captured of him sitting in a chair, mask on, wearing a pair of very Vermont-esque mittens during the inauguration appeared. He has, as some people claim online, done what no other politician has been able to do recently: United the country, albeit around some pretty funny memes circulating on social media about himself.
"I was just sitting there, trying to keep warm, trying to pay attention to what was going on," Buzzfeed quoted Sanders as saying to late night show host Seth Meyers about the photo.
Some have Photoshopped Bernie into familiar movie scenes, moments in history, and others put him in recognizable locations.
The Paramount in Huntington put Sanders in front of their venue on Facebook saying, "...waiting for concerts to return…"
Photo: Facebook.
Others put him in Port Jefferson, just relaxing on a big chair.
The Three Village Historical Society put him in front of their offices on Facebook.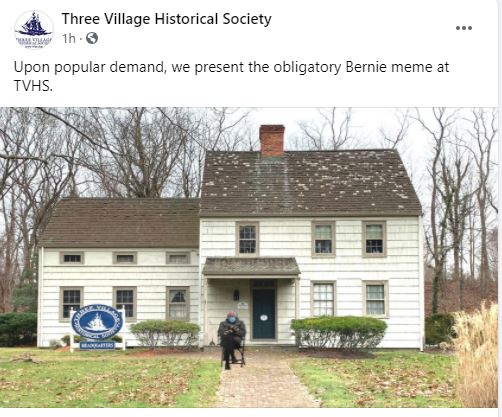 Photo: Facebook.
"Upon popular demand, we present the obligatory Bernie meme at TVHS," they said.
Even News12 got in on the act with their weather report.
Photo: Facebook.
Got a Bernie meme from a Long Island locale you want to share. Post it online and tag @LongIslandCom on Facebook, and use the hashtag #BernieLI
Side note: Unfortunately, the crunchy-granola, comfy, mittens are sold out according to the maker.