Gun Buyback at Lighthouse Mission in North Bellport
Gun Buyback at Lighthouse Mission in North Bellport happening on May 11th, from 9AM until 12PM.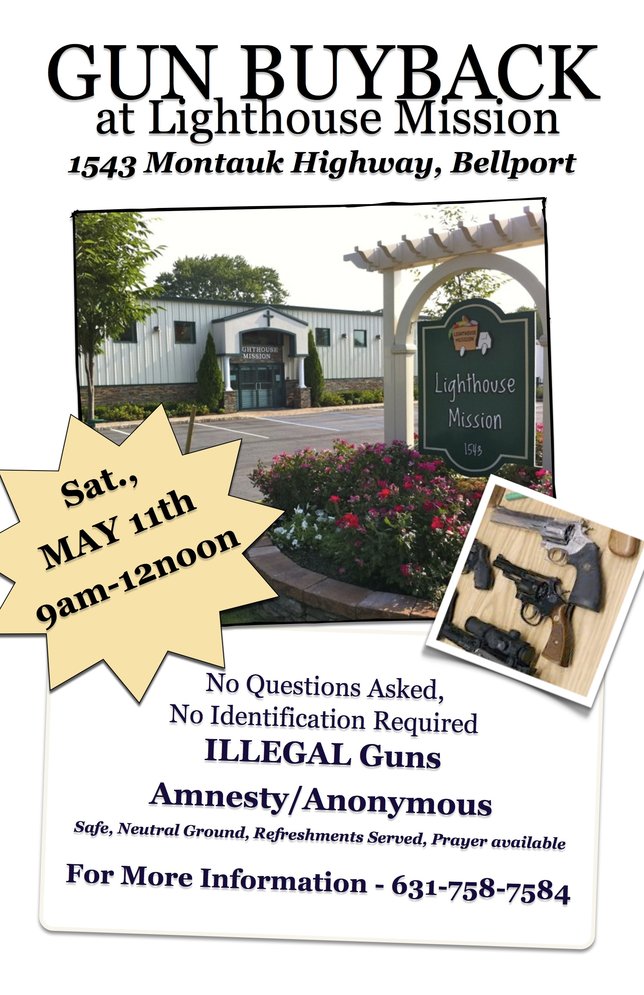 North Bellport, NY - April 25th, 2013 - Lighthouse Mission is pleased to announce the Gun Buyback Program which will be hosted at Lighthouse Mission at 1543 Montauk Highway, North Bellport, NY 11713 on Saturday, May 11th from 9am to 12noon. This program is designed to create a safe, anonymous environment where individuals can turn in illegally possessed guns. Removing illegally owned guns from the streets helps to secure neighborhoods without infringing on the 2nd amendments rights of law abiding gun owners.
Town of Brookhaven's Councilwoman Connie Kepert and Suffolk County Legislator Calarco have requested Lighthouse Mission's cooperation to host the event because of the impeccable reputation, innovative community initiatives and overall impact Lighthouse Mission has had within the challenged community of North Bellport and throughout Suffolk County.
Lighthouse Mission is Long Island's only weekly mobile food pantry reaching into 8 different towns covering 765 square miles of Suffolk County, feeding 3000 people per week. Offering Hope and Help with the Good News of Jesus Christ to change lives and practical assistance through their Mobile Food Pantry, innovative Youth Development and Community Initiatives. Lighthouse Mission serves and resources 156,000 individuals throughout the year with uniquely engineered programs, moving people from poverty to purpose.

###
For More Information, Please Contact:
Lighthouse Mission's Office
(631) 758-7584
www.LighthouseMission.net
Join Our Weekly Newsletter

Sign up for a free weekly newsletter covering things to do, hottest local headlines, and everything Long Island! Read more here or enter your email to signup.