Suffolk Police Marine Bureau Officers and Parks Police Officer Rescue Man
The rescue occurred at Smith Point Bridge in Shirley on Saturday, March 22.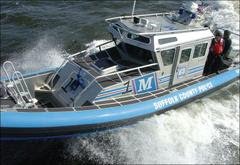 Shirley, NY - March 23, 2014 - Suffolk County Police Marine Bureau officers, along with a Parks Police officer rescued a man sitting on a bridge in Shirley after he says he fell into the water early this morning.
Parks Police Officer Patrick Noak responded to a call of a disturbance where a man was yelling help in the vicinity of the Smith Point Bridge at approximately 12:05 a.m. Believing there was a possibility that someone was in the water, Suffolk County Police unit Marine-Mike manned by Officers Charles Abbene, Keith Walters and Christian Schnoor also responded.
After searching the area Officer Noak discovered Steven Perez, 21, of 82 Parkview Dr., Shirley, on a bridge pillar underneath the center span of the bridge wearing only his underwear. Perez says he had been sitting on the railing of the bridge, when he lost his balance and fell into the water. Upon hitting the water, Perez states he removed his sweatshirt because they were impeding his ability to swim. After climbing onto the pillar, Perez removed his pants because he believed he would be warmer without them.
Officers from Marine-Mike helped Perez off the pillar and transported him to an awaiting Mastic Beach Ambulance, who transported him to Brookhaven Memorial Hospital Medical Center in East Patchogue for non-life threatening injuries.
Join Our Weekly Newsletter

Sign up for a free weekly newsletter covering things to do, hottest local headlines, and everything Long Island! Read more here or enter your email to signup.