Bellone Calls on State Delegation to Approve Park Police Plan to Save $13.4M
Amending Civil Service Law to Reclassify Park Police as SCPD will save taxpayer dollars, improve public safety.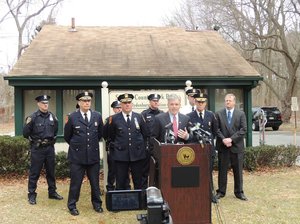 Hauppauge, NY - March 19, 2014 - Today, County Executive Bellone was joined by SCPD Chief Burke, Parks Commissioner Greg Dawson and police personnel to urge the NYS delegation to support the transfer and reclassification of all Suffolk County Park Police Officers to Suffolk County Police Officers. Yesterday, the Suffolk County Legislature voted unanimously in support of a Home Rule message which allows for this transfer to occur. The independent Suffolk County Legislative Budget Review Office estimated that the transfer of Park Police to the Suffolk County Police Department would save taxpayers $13.4 million through 2018.
The state legislation is sponsored by Senator Ken LaValle and Assemblyman Steve Englebright and County Executive Bellone is urging the approval of this legislation on the state level.
"As we continue to promote initiatives that streamline government and produce efficiencies which save tax payer dollars, the transfer of the Park Police to the Suffolk County Police Department is yet another example of how to make government more efficient," said County Executive Steve Bellone. "I ask the NYS state delegation to approve this transfer and effectuate savings of $13.4 million through 2018 for the benefit of the Suffolk County taxpayer."
Due to the seasonality of the Parks Police workload and the need to provide 24 x 7 coverage, the Parks Police experience a disproportionally large amount of overtime. Using seasonal, temporary and part-time park rangers and park security guards would save a significant amount of dollars, provide more hours of service and improve coverage as compared to using full time Park Police.
The 2014 Adopted Budget proposed the transfer of current Parks Police Officers to the Suffolk County Police Department and includes provisions to hire seasonal, temporary and part-time park rangers and park security guards. This transfer will supplement the County plans to hire a new class of Police Officers in 2014 under the new contractual salary plan. This transfer would have the following advantages:
Increase Police Officer availability by reducing training time since the Park Police have completed academy training;

Park Police would be hired into the new recruit salary schedule based on the nearest comparable bi-weekly salary.
Should the proposal be approved expeditiously, the transfer of Park Police to the Police Department will generate 2014 overtime savings in the Police Department over the peak summer months. This is an important opportunity for Suffolk County to continue providing a service at a lower cost to the taxpayer.
Join Our Weekly Newsletter

Sign up for a free weekly newsletter covering things to do, hottest local headlines, and everything Long Island! Read more here or enter your email to signup.