Albertson Fire Causes LIRR Delays
Fire at a condo complex suspended service at the Oyster Bay branch.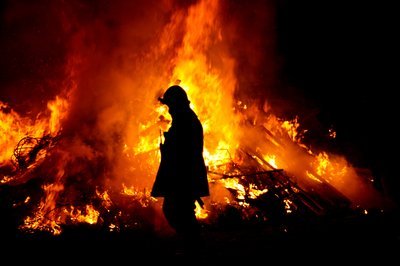 A fire that broke out at a condominium complex in Albertson caused a power shut-down for residents in the area on Friday night. The fire also caused a suspension of service for the Oyster Bay branch of the Long Island Railroad (LIRR).

The four-alarm fire started around 6:30 p.m. on I.U. Willets Road. A townhouse condo at the end of a row of attached homes went up in smoke.

Approximately 150 firefighters from 12 different departments responded to the scene. Firefighters went in to the occupied unit, then cut power and extinguished the flames.

Nassau County Police told CBS News that at least four units were destroyed in the blaze. At least 20 people have been left homeless as a result of the fire.

By 9 p.m., the fire was smoldering and firefighters were put on standby. The fire was brought under control soon after. There were no reported injuries.

Electricity in the area was also cut. Temperatures on Friday night dropped to the mid-teens. Approximately 1,200 power customers were affected by the outage. Many headed to the Albertson fire station for warmth.

"It's only power. They lost their house. So, we'll see how long it takes for the power to come back on," neighbor Edward Scott, whose family lost power after the fire, told ABC News.

In order to put the fire out, firefighters had to bring hoses across train tracks. As a result, LIRR service was suspended at the Oyster Bay branch, between East Williston and Locust Valley. Full service was not restored until after 10:30 p.m.

"I saw a police officer, a vehicle, and they were knocking on the door. They were doing something; having some sort of trouble getting in the place," neighbor Thaddeus Cashin told CBS News.

Volunteers from the American Red Cross of Long Island showed up at the scene to provide housing, food and blankets for the victims of the fire.

An investigation into the cause of the fire is underway.

[Sources: CBS, ABC]
Join Our Weekly Newsletter

Sign up for a free weekly newsletter covering things to do, hottest local headlines, and everything Long Island! Read more here or enter your email to signup.