Things To Do » Apple Picking
Long Island Apple Picking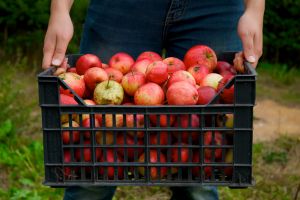 Granny Smith, gala, golden delicious, honeycrisp, fuji, red delicious, Cortland, empire, McIntosh, Albany beauty… there are many different varieties of apple, each with its own unique combination of size, flavor, and color. If you want to experience some of the best flavors available, you should go to some of Long Island's many orchards and pick your own fruit. Apples begin to grow and ripen as the weather starts to cool off in the fall, so take your bushel home and warm up with some homemade apple pie or hot apple cider! Baked apples with a dollop of fresh whipped cream make for a fantastic treat as well and, of course, they're quite tasty on their own.
Things To Do
Related Categories
30 Meadow Glen Road in Northport
631-269-9666
324 County Road 39 in Southampton
631-726-4667
28700 Main Road in Cutchogue
631-734-6441
3810 Middle Country Road in Calverton
631-727-4554
Want to be added to the Apple Picking Page? Call 631-406-4410 or
Email Us
for details!
Stories You Might Be Interested In
Enjoy the best of what September has to offer - awesome apple ...

As always, there are so many great dogs and cats available for ...




With Fall right around the corner, consider some of these frugal and ...

After you go apple picking, use your apples to try a new ...